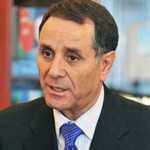 BAKU — "Azerbaijan may rethink its pro-Western stance and realign with "a new bloc" if it doesn't get more support, particularly regarding Nagorno Karabakh conflict," Bloomberg Businessweek quoted head of foreign relations department of Azerbaijani President's administration as saying.
"The Caspian Sea nation wants Europe and the U.S. to exert pressure on Armenia," Novruz Mammadov said.
According to him, "Azerbaijan has already received a proposal to join another political union."
"We aren't paying attention to those proposals for now. But if it continues like this, we may consider it in five to ten years. We're expecting help from the West on the Karabakh issue," Mammadov said, reminding the "West" that 35% of NATO supplies to Afghanistan is implemented through Azerbaijan.
He also accused some Western media of seeking to stoke tensions between Azerbaijan and Iran after Foreign Policy magazine reported last month that his nation had offered some of its airports to Israel for possible air strikes against Iran, citing unnamed U.S. intelligence agents. Azerbaijan has strongly rejected the report.