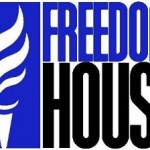 NEW YORK — Freedom House has rated Armenian media Not Free in its annual 2012 Freedom of Press report.
With 65 points, the country ranks the 149th in the organization's index. Armenia lags behind its neighbors, Georgia and Turkey, which place 111th and 127th, respectively.
Azerbaijan and Russia share the 172nd position with 80 scores. Both countries have been rated Not Free. Iran, which has scores 92 points, is the 192nd country in the ranking.
The section on Central and Eastern Europe says that only seven countries in the region (24%) were classified as Free, with 13 (45%) being Partly Free and nine (31%) – Not Free.
A serious decline was observed particularly in Hungary and Macedonia.
"The world's eight worst-rated countries, with scores of between 90 and 100 points, are Belarus, Cuba, Equatorial Guinea, Eritrea, Iran, North Korea, Turkmenistan, and Uzbekistan. In these states, independent media are either nonexistent or barely able to operate, the press acts as a mouthpiece for the regime, citizens' access to unbiased information is severely limited, and dissent is crushed through imprisonment, torture, and other forms of repression," reads the report.