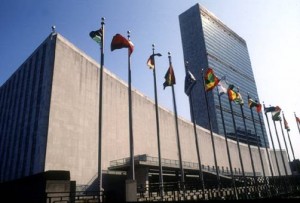 NEW YORK — Discussions on the "Prevention of genocide" were held at the UN headquarters in New York on April 12, under the auspices of the Armenian Permanent Representations in the UN.
Speaking at the event Armenia's Permanent Representative at the UN, Ambassador Karen Nazaryan noted that the Armenian nation, which was subjected to genocide in 1915, has a moral responsibility to work towards prevention of genocides. He referred to the crime organized and perpetrated by the Ottoman Empire on the state level and its consequences, noting that Armenia welcomes the efforts of governments, parliaments, international organizations and NGOs, as well as those Turkish intellectuals and politicians, who support Armenia in the process of international recognition of the Armenian Genocide.
Discussions included screening of Michael Hagopian's "River Ran Red " documentary, followed by comments by Michigan-Dearborn University professor Dennis R. Papazian, Massachusetts University professor Ervin Staub and head of the Armenian Film Foundation, film director Carla Garabedian.
From April 3-26, Bergen Community College's Gallery Bergen, NJ, in cooperation with the College's Center for Peace, Justice and Reconciliation is hosting an exhibition titled "Fractured History, Reconstructing Identity: Degrees of Westernization in Armenian Painting and Other Mediums." Works by Armenians from Diaspora and Motherland are on display, the exhibition is dedicated to the 97th anniversary of the Armenian Genocide.
Among others the exhibition was attended by Armenia's Permanent Representative at the UN Karen Nazaryan. The later noted in his speech that a broad educational and information network should be created to prevent future genocides.
The Ambassador noted also that the work towards prevention and the fight against the policy of denial is the responsibility of governments, parliaments, the press, the society and the educational establishments.