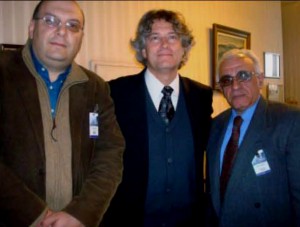 Recently, Social Democrat Hunchakian Central Committee member Diego Karamanoukian along with SDHP Uruguay Executive Committee Chairman Louis Aprazyan met with Member of Uruguay Senate Rafael Michelini in the General Assembly of Uruguay. The discussion at the meeting focused around Michelini's proposed legislation to include in the State budget expenditures for the establishment of an Armenian Genocide museum, which shall operate in a state-allocated building and have a Genocide Research Center.
The draft legislation aims to publicize and inform patrons on the horrible crime of genocide committed against the Armenian people in 1915. The museum will also contain historical and cultural information on the Armenian community of Uruguay.
Senator Michelini updated the SDHP leadership that all of the political factions within the Parliament have given their preliminary consent to the draft legislation, paving the way for a vote in the General Assembly soon.
The Hunchakian representatives expressed the Party's appreciation as well as continued unconditional support for the Senators endeavors towards the Armenian Cause, noting his unceasing commitment to not only commemorate the Armenian Genocide but also the martyrdom of 20 Hunchakian intellectuals and activists who were hung in July of 1915 at the Sultan Bayazid square of Constantinople after spending two years in terrible conditions in Turkish prisons.