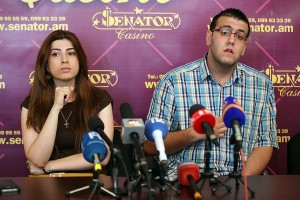 YEREVAN — Syrian Armenians say they can not afford to come to Armenia because the tickets are expensive.
Hripsime Margarian, head of sub-committee on youth affairs at Armenia's public council, said they cannot come to Armenia because of high prices set by national carrier Armavia.
"We must create a system of discounts," she said at a press conference on Saturday urging to address Armenia's Ministry of Transport and Communication.
Syrian-Armenian economist Harut Palulian also expressed discontent with services provided by Armenian carrier. The ticket price for the first flight, carried out after a break, went up by $150.
Armavia's Aleppo-Yerevan- Aleppo ticket prices is $470, while Syrian companies offer the same flight at only $320, he said adding that Syrian companies' tickets are sold out.
Harut said he wants to live and work in Armenia and had already torn his return ticket.
Speaking about Syria, he said the Armenian community will be facing a difficult situation if the current government is overthrown.
Armavia resumed regular flights to Syria on July 2, amid a growing influx of Syrian nationals of Armenian descent fleeing the escalating violence in the troubled Middle Eastern state.
Hundreds of Syrian Armenians are believed to have moved to Armenia in recent months. With no end to fighting in Syria in sight, thousands of others may follow suit in the following months. According to immigration authorities in Yerevan, about 3,000 of them applied for Armenian citizenship last year and another 2,700 in the first five months of this year.