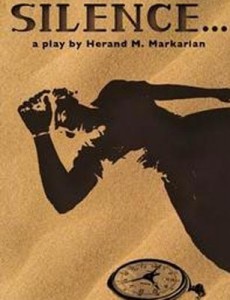 NEW YORK — Silence, an original play by Herand Markarian, directed by Kevin Thompson, starring Lorraine Serabian will begin previews in New York's Shell Theatre on May 4.
Set against the backdrop of the World War I Armenian Genocide, Silence is the story of a woman's courageous journey to survive, embrace her family and preserve her Armenian heritage. Silence holds the power to enlighten us to the tangible effects that the Armenian Genocide has left upon families and individuals during the past 100 years. It evokes the Silence of history and the Silence of those who survived the genocide. As we move toward the 100th anniversary of the Armenian genocide it is time to educate the world that this atrocity really happened. Moreover, we must learn from Silence to draw parallels to current world affairs in Syria, Darfur, and other parts of Africa.
Silence will begin previews on May 4, 2012 at The Shell Theater, 300 West 43rd Street 4th Floor, and run through May 24, 2012 with talk-backs following the performances on May 4, 9, 12 and 24. Evening performances will begin at 8PM, matinee performances at 2PM.