FRESNO – The Inaugural Banquet of Fresno's Armenian Cultural Conservancy was well supported on Saturday, October 29, 2016, as 130 guests gathered in the historic "Old Administration Building" of Fresno City College (FCC). Preceding dinner, guests and religious leaders enjoyed a lavish mezze table and wine as they shared fellowship.
Clergy of the Armenian Churches of the San Joaquin Valley-the Very Rev. Fr. Dajad Ashekian, Holy Trinity Armenian Church of Fresno; Fr. Vartan Kasparian, Sts. Sahag-Mesrob Armenian Church of Reedley; Fr. Yeghia Hairabedian, St. Gregory Armenian Church of Fowler; Fr. Zaven Markosyan, St. Mary Armenian Church of Yettem; and Fr. Yessai Bedros, St. Paul Armenian Church of Fresno-together blessed the banquet meal.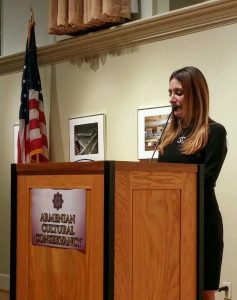 Deborah Adishian-Astone, Vice President for Administration and Associate Vice President for Auxiliary Services at California State University, Fresno, skillfully served as Mistress of Ceremony. She acknowledged guests, committee members and the keynote speaker.
Lusine Tanossian, Chief of Staff of the Office of the Armenian Consulate in Fresno, shared greetings and support on behalf of Berj K. Apkarian, the Honorary Consul of the Republic of Armenia. Tanossian spoke for Consul Apkarian, expressing his support of the initiative and urging the general community to unite in furthering the Conservancy's purpose and mission.
Special recognition was given to Mabelle Selland by Charles Barrett, ACC's co-chair, for her efforts in saving from demolition the "Old Administration Building" of FCC. As a past Director of the Fresno County Historical Society, Mabelle has been a constant advocate for the preservation of Armenian and other ethnic heritage.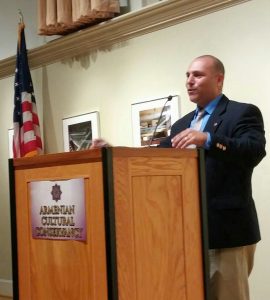 Adishian-Astone in her presentation of Dr. Matthew Ari Jendian, the Chair of the Sociology Department at Fresno State, stated that he was recognized for his leadership and integrity, and as mentor to many students. She stated, "I have been honored to work with 'Dr. J' on many initiatives."
Dr. Jendian delivered an inspirational keynote address to the guests gathered for the launching of the Armenian Cultural Conservancy. He stated, "We need a place where we can grow roots, an institute that will preserve our heritage to benefit our Armenian Community and the broader community." Dr. Jendian further stated, "Philanthropy involves the sharing of one's time, talent and treasure for the benefit of others, and it will take all of us to make a difference in the legacy that will live on for future generations."
Both Jendian and Adishian-Astone, native Fresnans and the grandchildren of genocide survivors, agree that the Conservancy will be a valuable receptacle from which young Armenians can learn of their heritage.
The Armenian Cultural Conservancy of Fresno will be modeled on the Armenian Library and Museum of America located in the Boston suburb of Watertown, Massachusetts. In addition to the collection, display and interpretation of artifacts which explain and illustrate experiences of Armenian-Americans, the conservancy will also provide research support and preservation of Armenian folk culture from both sides of the Atlantic. Its initial mission is "to collect, preserve and interpret the evidence of the Armenian experience in Central California in an enduring institution of learning."
The launching banquet of the Armenian Cultural Conservancy was co-sponsored by the Foreign Language Department of FCC and Heritage Fresno.
The Education Employees Credit Union was a major Corporate Sponsor; and Banquet Sponsors included: Midge & Charles Barrett, Raffi & Peter Dorian, Mary Mirigian Ekmalian, Linda Hamilton, Edward V. Hagopian, Margaret & Paul Hokokian, Edward M. Kashian, Sue & Mike Kilijian, Lee Leone, Lynn & Glen Margulis, Anylouise & Gilbert Matossian, Arpini Mirigian Trust, Gladys Peters and Barbara Vartan.
The Banquet Committee, chaired by Mike Kilijian, included Herb Arden, Charles Barrett, Midge Barrett, Mary Ekmalian, Linda Hamilton, Margaret Hokokian, Dn. Allan Jendian, Lee Leone, Helen Moordigian and Pat Powell.
The mezza and desserts were generously provided by Midge Sweet (Anooshian) Barrett, Mary Mirigian Ekmalian, Margaret Melkonian Hokokian, Valley Lavosh Baking Co., and Ohanyan's Bastirma & Soujouk Co.
Many guests also became founding members of Fresno's Armenian Cultural Conservancy (ACC), a 501(c)(3) nonprofit, community benefit organization. Join by visiting its website at http://armenianculturalconservancy.org/.