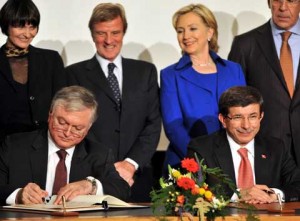 ANKARA / YEREVAN — Ankara has rebutted a statement by the United States calling on Turkey to take steps to normalize its relations with Armenia, citing the Armenian Constitutional Court's previous rulings on the two countries' diplomatic protocols.
"Turkey's position on the issue is clear," a Turkish diplomat told the Hürriyet Daily News, adding that the Armenian court's Jan. 12 decision established that the protocols conformed to the country's constitution.
U.S. Secretary of State Hillary Clinton urged Turkey to normalize relations with Armenia, speaking to journalists in Yerevan on June 4, saying "the ball is in Turkey's court."
In the Armenian court's decision about the constitutionality of protocols that could pave the way for diplomatic relations with Turkey, the Armenian Constitutional Court's reference to the 1915 killings of Armenians at the hands of the Ottoman Empire has drawn ire from Ankara. The reference to the killings in the ruling was against the spirit of the normalization process with Yerevan, Prime Minister Recep Tayyip Erdogan said after the Armenian court's 2010 ruling. "We have never taken the protocol to our Constitutional Court. We took it directly to our Parliament, without making changes. We didn't employ a mediator on the text. We didn't carry out any read-between-the-lines operations. This is proof of our sincerity. Armenia has tried to change the text," Erdogan said.
The fifth article of the court's ruling makes reference to Armenia's declaration of independence in a manner that angered Turkey, while the document's 11th paragraph says, "The Republic of Armenia stands in support of the task of achieving international recognition of the 1915 genocide in Ottoman Turkey and Western Armenia." The accords, signed by the foreign ministers of Turkey and Armenia in October 2009, need parliamentary approval in both countries for ratification.
Turkey and Armenia currently have no diplomatic relations, as Ankara closed its border with the country in 1993 because of its war with Azerbaijan over the disputed region of Nagorno-Karabakh.
In 2009, the Turkish and Armenian foreign ministers signed protocols to establish diplomatic ties and reopen their shared border. The protocols also called for a joint commission to examine the two countries' shared history. Along with the Armenian court's decision, the normalization process stalled after Turkey faced a backlash from its traditional ally, Azerbaijan, and opposition at home.