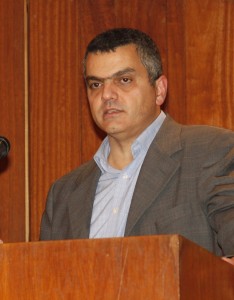 GLENDALE, CA — Historian Ara Sarafian will present a lecture titled "Staying Focused: Henry Morgenthau and the Armenian Genocide " on Saturday, March 31, 2012 – 8:00pm at Abril Bookstore in Glendale (415 E. Broadway).
United States archives constitute one of the most important sources on the Armenian Genocide. This is because the United States was a neutral power until 1917. Its consuls and nationals were dispersed throughout Ottoman Turkey and reported what they saw. The US ambassador in Constantineople, Henry Morgenthau, was also an exceptional man who took a serious stand on the persecution of Armenians. Consequently, American archival records remain a major resource for historians working on the Armenian Genocide.
For these same reasons, deniers of the Armenian Genocide have also been relentless in their efforts to sideline or denigrate the importance of American archives regarding the Armenian Genocide. In this talk, British historian, Ara Sarafian will discuss Ambassador Morgenthau's role in engaging the Armenian issue, and the manner in which Morgenthau has been targeted by a misinformation campaign that seeks to deny the Armenian Genocide.
Ara Sarafian is the Managing Director of the Gomidas Institute (London). His publications include "Talaat Pasha's Report on the Armenian Genocide," the British Parliamentary Blue Book "The Treatment of Armenians in the Ottoman Empire, 1915-16 [uncensored edition]," "United States Diplomacy on the Bosphorus: the Diaries of Ambassador Morgenthau, 1913-1916", and "United States Official Records on the Armenian Genocide, 1915-1917."
For more information, call (818) 243-4112.