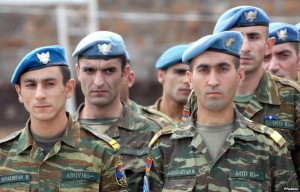 YEREVAN — Armenia has ended its participation in NATO's peacekeeping mission in Kosovo eight years after sending troops to the former Yugoslav region, Defense Minister Seyran Ohanian confirmed on Wednesday.
Ohanian said a 35-strong platoon of the Armenian Armed Forces has returned to Yerevan because of an ongoing reduction in the size of NATO's Kosovo Force (KFOR) that reflects improved security conditions in the newly independent state. Speaking at a news conference, he specifically pointed to the pullout of most of a Greek peacekeeping battalion stationed there since 1999.
The Armenian contingent was part of that battalion deployed in eastern Kosovo, an area controlled by KFOR's U.S.-led Multinational Brigade East.
In a separate interview with the Mediamax news agency, Ohanian said Armenia is ready to send its troops back to Kosovo if another NATO member state agrees to cover their logistical expenses in place of Greece. He said the Armenian military has already received a relevant offer from Hungary and is now considering it.
The deployment of Armenian soldiers in Kosovo in February 2004 marked the start of Armenia's first-ever military mission abroad. Yerevan contributed dozens of troops to the U.S. occupation force in Iraq and the NATO-led International Security Assistance Force (ISAF) for Afghanistan in the following years. The number of Armenian troops serving in Afghanistan was almost tripled to about 130 in June 2011.
These missions have highlighted Armenia's growing military ties with NATO and the United States in particular. A senior U.S. defense official said last summer that the Pentagon will continue to assist in the ongoing expansion of an Armenian army unit that provides military personnel for multinational operations abroad.
Armenia participation in such operations is envisaged by Yerevan's Individual Partnership Action Plan (IPAP) with NATO launched in 2005. The cooperation framework also commits the country, traditionally reliant on close military ties with Russia, to implementing wide-ranging defense reforms.