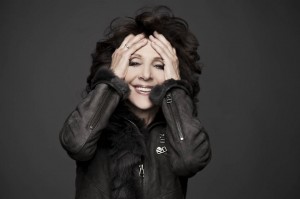 COSTA MESA, CA — Emmy and Tony award-winning comedienne Andrea Martin, who is Armenian, performs her new one-woman comedy show Final Days! Everything Must Go! at the Segerstrom Center for the Performing Arts in Costa Mesa February 16 to 19. She headlines at the McCallum Theatre in Palm Desert on February 24. Musician Seth Rudetsky, a YouTube sensation, will accompany her.
Andrea, whom USA Today calls "a comic genius," offers an evening of outrageous comedy and song. Well-known Broadway tunes are rounded out with her famous Second City Television (SCTV) characters – like Edith Prickley, the leopard-skin-clad station manager – and tales of her life, career and famous Hollywood friends.
While theater, film and television roles have filled her life for the past 30 years, Andrea has always been generous with her time in support of philanthropic causes. In the 1990s, when she lived in Los Angeles, she organized and performed in two comedy nights to benefit the Armenian Film Foundation and also supported the Adopt-a-Sister program of the Armenian Health Alliance. Since 2004, she has been helping to raise money for the Children of Armenia Fund, whose programs have served more than 25,000 people in rural villages in Armenia.
In December and for the fifth year in a row, Andrea was the master of ceremonies of COAF's eighth annual holiday gala at the Metropolitan Museum of Art's The Temple of Dendur in the Sackler Wing. The event raised more than $1.4 million.
Andrea, born in Portland, Maine to Armenian parents, began her career as a singing chicken on the Captain Kangaroo television show. She has been seen in more than 20 feature films, including as the aunt in My Big Fat Greek Wedding, and she has appeared in numerous television shows, including Nurse Jackie. Andrea co-starred in the television series SCTV for which she won two Emmy Awards for writing and received an Emmy nomination for Best Actress. She has lent her voice to an impressive list of animated projects including Jimmy Neutron: Boy Genius, The Rugrats Movie, The Simpsons, Superman and Sesame Street, for which she received a special Emmy Award.
She is currently touring her new show, Andrea Martin: Final Days! Everything Must Go!, throughout Ontario and the U.S. She divides her time between New York and Toronto, when she's not, as she likes to put it, "interfering" in the lives of her grown sons, Jack and Joe, who reside in Los Angeles.
For tickets and information, visit www.scfta.org or call the box office at 714-556-2787.