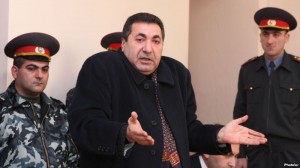 YEREVAN — Colonel Margar Ohanian, the former chief of Armenia's traffic police pleaded not guilty on Monday as he went on trial on charges of large-scale embezzlement of public funds.
Colonel Ohanian claimed that he has been unjustly prosecuted on orders of more high-ranking and powerful state officials. He declined to name any of those officials.
Ohanian was arrested in September and sacked in a criminal investigation into the alleged theft of more than 150 tons of fuel that was allotted to the traffic police. The case against him is based on testimony given by four of his former subordinates also standing trial. None of them is being kept in pretrial detention.
Ohanian denied the charges throughout an investigation conducted by the Special Investigative Service (SIS), saying that he is not responsible for the alleged embezzlement.
Making his first appearance at a district court in Yerevan, the former police official described his first interrogation by the SIS on August 30.
"After 40 minutes, after one phone call [to SIS investigators], I turned from a witness into a suspect and was arrested," he said.
"There were some reasons for that which I can't publicize now. They simply had to fire and arrest me in order to bring what was put up right at the beginning to a conclusion," Ohanian added, before asking for a private meeting with the presiding judge and the trial prosecutor.
Both men turned down the request. "If you have something to say, say it here," said prosecutor Harutiun Harutiunian.
"I just wanted to tell you not to pick up others' fight. Do not bring my personal relations with relevant chiefs to a conclusion here," he replied, without elaborating.
While protesting his innocence, Ohanian announced through his lawyer last month that he, his family, and friends have raised more than $100,000 to compensate the state for the alleged embezzlement.
His lawyer, Mkrtich Vasakian, described the payment as a "matter of honor and dignity" for his client but not an admission of guilt.