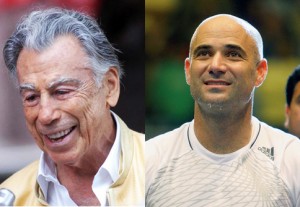 By Bryan Toporek
http://blogs.edweek.org
LAS VEGAS — Billionaire Kirk Kerkorian, the former owner of MGM studios, is donating $18 million to the Andre Agassi College Preparatory Academy in Las Vegas, Agassi announced over the weekend.
Kerkorian's gift marks the largest donation in the 16-year history of the Andre Agassi Foundation for Education, which has raised over $150 million in total.
The Foundation for Education sends funding to Agassi Prep, which has sent every one of its graduates for the past three years to college. The school is located in an "at-risk neighborhood in the urban core of Las Vegas," according to the Las Vegas Review-Journal.
Agassi made the announcement at his foundation's 16th Grand Slam for Children Benefit Concert in Las Vegas. Including Kerkorian's $18 million donation, another $1.5 million donation from the Engelstad Family Foundation and $1 million from Windsong Trust (plus ticket sales and auction proceeds), the foundation raised an estimated $26.1 million that night.
"I am both astounded and humbled by the generosity and compassion of our community, the artists, sponsors, partners, and donors," Agassi said in a statement. "This record- breaking evening will make a positive difference in students' lives as we continue to work to transform education."
Agassi said that Kerkorian's donation helped the foundation reach its goal of guaranteeing that Agassi Prep has enough funding to continue in perpetuity.
Earlier this year, Agassi teamed up with a group of Los Angeles bankers to create a for-profit investment fund aimed at raising $750 million for the construction of 75 charter schools over the next few years.