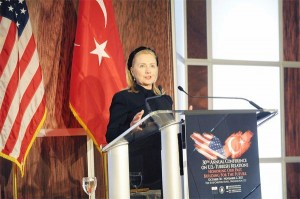 WASHINGTON, DC — The US hopes that the Turkish Parliament will formally ratify protocols on normalization of relations between Turkey and Armenia during the current session, said the US Secretary of State Hillary Clinton at a conference of the US-Turkish Council.
"Improving relations between Turkey and Armenia would be a positive step, and we hope that the Turkish parliament will ratify the protocols during its current session and normalize ties with Armenia. These festering conflicts hold back progress and development in the region. Reducing tensions with neighbors, increasing stability, is a recipe for expanded growth and influence. Turkey's leaders understand this, which is why they have been reaching out over the last years. But it does take bold choices and strong political will, not only on the part of Turkey, but on the part of all of the countries", Clinton stated.
In October 2009 Armenia and Turkey signed two protocols in Zurich. They committed the two neighboring nations to establish diplomatic relation and open the Turkish-Armenian border which Ankara closed in 1993 in a show of support for Azerbaijan.
The Turkish government has repeatedly made clear that it will not ensure the protocols' ratification by Turkey's parliament before a resolution of the Nagorno-Karabakh conflict acceptable to Baku.
Yerevan rejects this linkage, saying that it contradicts the letter and the spirit of the U.S.-backed agreements. Citing the Turkish precondition, president Serzh Sarkisian suspended the process of Armenian parliamentary ratification of the protocols in April 2009. But he stopped short of formally annulling them.