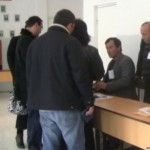 YEREVAN — In a rare electoral setback for President Serzh Sarkisian's Republican Party, the long-serving mayor of the northern Armenian town of Ijevan was defeated Sunday by a candidate representing the Prosperous Armenia Party, a key partner in the ruling coalition.
According to preliminary data, in the Sunday vote Nersisyan polled only 38 percent of the vote, while Vardan Galumyan of Prosperous Armenia Party, was backed by 57 percent of the voters.
Nersisian, who has governed the administrative center of Tavush province for over 13 years, cried foul even before the closure of the polls. He accused Ghalumian of handing out vote bribes in the form of cash and flour.
"I have informed law-enforcement bodies about that," Nersisian told RFE/RL's Armenian service (Azatutyun.am). "The whole Ijevan is talking about that."
Local police detained two men on suspicion of vote buying on Sunday morning. They both were released without charge several hours later.
The Ghalumian campaign and senior Prosperous Armenia Party figures, who arrived from Yerevan to monitor the election, strongly denied the vote buying allegations.
Nersisian lodged no formal protests with the local election commission as of Monday afternoon.
The incumbent mayor has been at loggerheads with Ijevan's municipal council for the past three years. Most of its members, including Ghalumian, have accused him of corruption and mismanagement.
PAP representative Vardan Bostanjyan told media last week his party will win a majority if "equal conditions" were ensured in the vote slated for next May. Through a spokesman the RPA disparaged the comment.