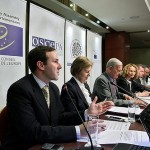 YEREVAN — International observers gave a mixed assessment of Armenia's parliamentary elections on Monday, praising the pre-election environment in the country but reporting irregularities in a "significant number" of polling stations on voting day.
In their preliminary findings that clearly fell short of the Armenian government's expectations, the nearly 300 observers mostly deployed by the Organization for Security and Cooperation in Europe (OSCE) avoided stating whether the vote was democratic.
"Armenia deserves recognition for its electoral reforms and its open and peaceful campaign environment but in this race several stakeholders too often failed to comply with the law and election commissions too often failed to enforce it," said Francois-Xavier de Donnea, a Belgian parliamentarian who led head short-term OSCE monitors. "As a result, the international commitments to which Armenia has freely subscribed were not always respected."
"The election campaign was open and respected fundamental freedoms, and the media offered broad and balanced coverage during the official campaign period," said Radmila Sekerinska, an observer mission leader representing the OSCE's Office for Democratic Institutions and Human Rights (ODIHR).