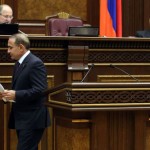 YEREVAN — Parliament speaker Hovik Abrahamian officially tendered his resignation on Monday, again linking the move with next year's parliamentary elections.
Abrahamian said on November 2 that President Serzh Sarkisian offered him to step down and become the election campaign manager of the ruling Republican Party of Armenia (HHK). He said he accepted the offer because he considers the polls scheduled for May 2012 "very important" for Armenia.
Abrahamian dismissed media speculation that he was forced to quit because of being regarded as a backer of former President Robert Kocharian's possible bid to return to power.
The speculation only intensified the next day with the official announcement that Mikael Minasian, Sarkisian's influential son-in-law, will resign as deputy chief of the presidential administration to "help" the outgoing speaker run the HHK campaign.
Commentators suggested that Minasian will be tasked with helping the president keep a tight rein on Abrahamian and preventing the latter from cooperating with the Prosperous Armenia Party of Gagik Tsarukian.
Abrahamian again cited the need for the proper conduct of the forthcoming elections as he explained his resignation to lawmakers on Monday. "I think it is clear to everyone that our country is entering a period of preparations for the next parliamentary elections," he said. "Organizing and holding those elections at a high level is a matter of honor for everyone and especially the authorities."
Under Armenian law, Abrahamian will formally cease to head the National Assembly when he reaffirms his resignation on Friday. Samvel Nikoyan, one of his two deputies, is tipped to become the next speaker.