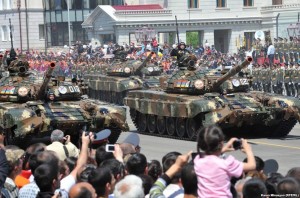 STEPANAKERT — Scores of troops, tanks and other military hardware paraded across Stepanakert on Wednesday as Nagorno-Karabakh marked the 20th anniversary of the Liberation of Shoushi from Azerbaijani forces.
The biggest display Karabakh's military power, more than 2,000 troops goose-stepped through Stepanakert's central square, followed by dozens of tanks, artillery systems and anti-aircraft weapons.
The parade also featured Armenian-made unmanned aircraft and Russian 9K72 surface-to-surface ballistic missiles known in the West as Scud-B. Designed for the Soviet army in the 1960s, the missiles have a firing range of up to 300 kilometers, putting virtually all strategic facilities in Azerbaijan within their reach.
The Stepanakert parade was part of official ceremonies marking the 20th anniversary of the capture by Karabakh forces of Shushi, a historic Armenian town overlooking Stepanakert. The operation not only ended Stepanakert's daily shelling by Azerbaijani troops but also paved the way for the opening of a land corridor between Armenia and Karabakh. The overland link was in turn was critical for subsequent Armenian victories in the bitter war.
Bako Sahakian, president of Nagorno-Karabakh Republic described the jubilee as a "holiday of the freedom-loving spirit" when he addressed the troops lined up on the square facing his office.
"Our army is one of our greatest prides that is fulfilling the holly mission of homeland defense with honor," Sahakian said. "We will do everything to keep the army strong and victorious, maintain its high combat spirit, and ensure that it can achieve any objective set before it at any moment."
The Karabakh leader watched the parade from a podium together with Armenia's President Serzh Sarkisian as well as Catholicos of All Armenians Karegin II and other officials.
Sarkisian, who commanded Karabakh Armenian troops during the Shushi operation, issued a written address to the nation on the occasion. "The liberation of Shushi once again opened new doors for our people's peaceful, creative work and flourishing of the nation," he said. "This victory too was achieved through the greatest sacrifice of our people."
The parade was also watched by thousands of ordinary people. "That day (May 9, 1992) was a great holiday for us because we got rid of bullets, rockets and shells raining down on us," one middle-aged woman told RFE/RL's Armenian service (Azatutyun.am). "It was huge relief for our people."
"I'm proud of our established army," said another Stepanakert resident.