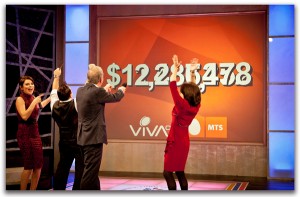 LOS ANGELES — The annual Armenia Fund Telethon broadcast live from Los Angeles on Thursday raised more than $12.3 million in donations that will be mostly invested in the ongoing reconstruction of Nagorno-Karabakh's water distribution network.
As opposed to last year, this year's Telethon results do not include large donations that will be made during Armenia Fund Moscow Fundraising Dinner to take place on December 21, 2011.
The 14th telethon traditionally held on Thanksgiving Day and aired from Los Angeles was available on cable and satellite TV, as well as online. It started off with System of a Down's soloist Serj Tankian's appeal to give the people of Artsakh a gift of water.
The telethon also featured appeals by presidents of Armenia and Nagorno Karabakh Serzh Sarkisian and Bako Sahakian respectively, Catholicos of All Armenians Karekin II, Catholicos of the Great House of Cilicia Aram I, Primate of Artsakh Diocese Archbishop Barkev Mardirosian, as well as representatives of national political parties and other Diaspora organizations.
The bulk of the money will be used for improving drinking water supplies to more Karabakh villages and implementing similar rural infrastructure projects in Armenia. The fund already raised $21 million for that purpose late last year.
These figures also include the 12th European fundraising phonathon held earlier in France by the All-Armenian Fund which received a promise of 1.3 million Euros ($1.7 million).
Major donors from Armenia included Vallex Group ($200,000), Zangezur Copper Molybdenum Factory ($500,000) and another $200,000 was promised by businessman MP Samvel Alexanian.
The final results of the 2011 Fundraising Campaign will be announced in late December after the Moscow Fundraising Dinner.