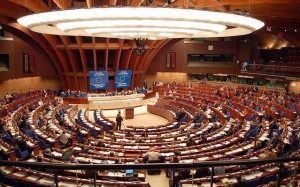 Armenia remains strongly opposed and will boycott renewed discussions on the Nagorno-Karabakh conflict at the Council of Europe Parliamentary Assembly (PACE) that are championed by its current, Turkish president, the county's delegation chief Naira Zohrabian said on Thursday.
The talks have been championed by PACE President Mevlut Cavusoglu, who intends to revive a PACE subcommittee tasked with facilitating a peaceful resolution of the Nagorno Karabakh conflict during the assembly's winter session later this month.
Its existence is envisaged by a 2005 PACE resolution.
Armenia is worried that the subcommittee will not be impartial in its work because of the PACE chief's nationality, arguing that Turkey continues to lend full and unconditional support to Azerbaijan and cite pro-Azerbaijani statements made by Cavusoglu in the past.
"If PACE revives the activities of the subcommittee… the Armenian delegation will boycott it and not take part in its work," Zohrabian told reporters.
She said Cavusoglu and Turkish Foreign Minister Ahmet Davutoglu, who will hold chairmanship of the ministerial committee in the next session, would seek to restore the subcommittee and lend support to Azerbaijan.
Zohrabian added that Cavusoglu and other PACE officials have failed to address Armenian concerns about the initiative. She said the assembly's agenda-setting Bureau will discuss the matter and may well relaunch the controversial panel at a meeting scheduled for January 24.
Zohrabian believes that Yerevan must refuse to cooperate with the panel if Cavusoglu succeeds in resuming its work. "In that case, let Cavusoglu meet with the Azerbaijani delegation and discuss the Nagorno-Karabakh conflict," she told reporters.
The lawmaker also expressed concern at the fact that Turkey took over the rotating presidency at the Council of Europe's most important decision-making body, the Committee of Ministers, in November. She claimed that Turkish government officials and Cavusoglu will exploit that role to push a pro-Azerbaijani solution to the Karabakh dispute.