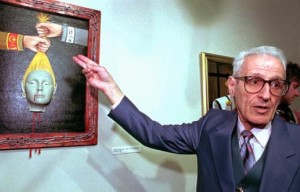 Get ready for a glimpse inside the twisted artistic mind of the so-called Dr. Death.
More than 20 oil paintings created by the infamous assisted-suicide doc Jack Kevorkian will be auctioned off at the New York Institute of Technology on October 27 and 28, his Michigan-based estate said.
Some of the late pathologist's possessions, including a few of his trademark cardigan sweaters and one of his notorious "suicide machines," will also be on the block, according to the auction's organizer, David Streets Beverly Hills.
Not surprisingly, Kevorkian's artwork depicts violent and horrific imagery under dark titles, such as "Genocide," "Nearer My God to Thee," and "Fever."
The painting "Genocide," which shows two arms clutching the hair of a dangling severed head, has a creepy-colored wooden frame – it was soaked in Kevorkian's own blood.
"Just looking at it, you can say [it's] grotesque," Kevorkian's attorney, Mayer Morganroth, told The Associated Press. "They were [made] to make a point, like any art."
The estate hasn't estimated how much the lot may pull in because in part there is no benchmark; Kevorkian never sold any of his art or personal affects during his lifetime.
Suburban Detroit art dealer Ann Kuffler, who has displayed the doctor's work in the past, told The Associated Press that she's sold signed reproductions of his work for $500.
One collector offered $100,000 for one of his paintings during a 1994 exhibition, she added.
Morganroth said proceeds from the auction will go to the late pathologist's sole heir, a niece, and a charity, Kicking Cancer for Kids.
"There has always been a lot of interest in Jack Kevorkian, and people involved in this expect some competitive bidding," Morganroth told The Detroit News.
Kevorkian claimed to have helped at least 130 patients end their lives, famously declaring "death is not a crime."
Prosecutors saw things differently. Dr. Death was convicted of second-degree murder in 1999 and served seven years in jail before being released in 2007. He died in June at age 83.
NY Daily News