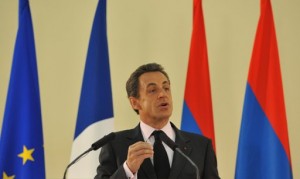 YEREVAN — French President Nicolas Sarkozy on Friday urged Armenian to continue efforts towards normalizing relations with Turkey and finding a durable peace with its other neighbor Azerbaijan.
On the second day of his visit to Yerevan as part of a broader South Caucasus tour that also included Azerbaijan's capital Baku Sarkozy urged the parties to the protracted Armenian-Azerbaijani conflict over Nagorno-Karabakh to resolve their differences by peaceful means.
"I have told the president of Armenian to continue his way towards peace with Azerbaijan, which meets the interests of both countries," Sarkozy said in Yerevan at a joint press conference with his Armenian counterpart Serzh Sarkisian.
Sarkozy traveled to Baku later on Friday to carry a similar message of peace before visiting Georgian capital Tbilisi on the last leg of his South Caucasus tour.
Speaking about the Karabakh conflict in Yerevan, Sarkozy stressed that Armenians and Azerbaijanis must continue their negotiations as part of the OSCE Minsk Group and that it is both nations that need peace.
Sarkozy also urged Armenian to continue its efforts on a rapprochement with Turkey that effectively ground to a halt last year, with both sides blaming each other for the failure. France was one of the states that supported the normalization effort.
"Of course, I've also encouraged President Sarkisian to continue dialogue with Turkey. It is unacceptable that the [Armenian] border with Turkey remain close in 2011," he said.
Sarkozy simultaneously urged Turkey to recognize the Armenian Genocide soon. He said Turkey has to be able to face its history, to be able to look directly at both bright and dark pages of its own history. "Turkey is a big country which would earn more respect if it reconsiders its history, just like other superpowers– Germany, France – have done," he said.
The French president said that if Turkey did not make this "step towards reconciliation", he would consider proposing the adoption of a law criminalizing denial of the Genocide.
Still, Sarkozy noted that "it is not up to France to give an ultimatum to anyone."
"I do not mention any time limits because I hope that the Turkish society and leadership will respond appropriately. In any case, I think that all this will take place during my time in office," said Sarkozy, whose first term as French president expires in 2012.
France recognized the Armenians Genocide back in 1998 as its parliament passed a corresponding bill.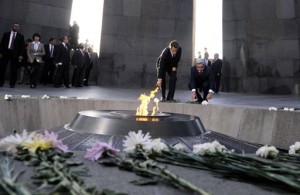 Sarkozy had arrived in Armenian on Thursday; where his Armenian counterpart Serzh Sarkisian greeted him at Zvartnotz airport. Right after the official greeting ceremony the two presidents visited Mother See of Holy Echmiadzin, where Sarkozy met the Catholicos of All Armenians Garegin II and lit candles at the cathedral.
Next stop on the agenda was the Genocide Memorial, where the presidents laid wreaths by the eternal fire and visited the Armenian Genocide Museum-Institute. In the book of honored guests Sarkozy wrote: "France does not forget".
The French president also planted a fir-tree in the park of the Genocide Memorial complex, next to the memorial tablet stating the fact that in 2001 France passed a law recognizing the Armenian Genocide.
French Ministers of Economy, Industry, Cooperation and Transport accompany Sarkozy in his visit, as well as Secretary of State for Foreign Trade. Among other guests are French co-chair of OSCE Minsk Group Ambassadors Bernard Fassier, French-Armenian politician Patrick Devedjian, president of France Telecom Orange Group company Stephan Rishar, Head of the France-Armenian Friendship Group of the French National Assembly François Rochebloine, football player Youri Djorkaeff, French-Armenian film producer Alain Terzian