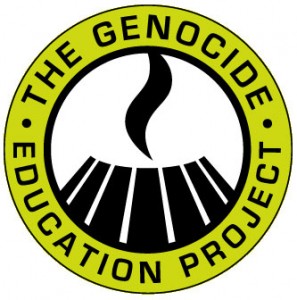 Sometimes it takes friends to tell a friend that the latter has a problem.
The friends who must do the telling, in this case, are Armenian Americans, particularly those of the San Francisco-based Genocide Education Project (GEP) whose main mission is teaching about the Armenian genocide. The friend with a problem is the Brookline, Massachusetts-based Facing History and Ourselves (FHAO), the Holocaust and human rights organization whose curriculum includes the Armenian genocide.
GEP collaborates with FHAO and makes use of the latter's teaching materials. More importantly, two top FHAO executives are advisors to GEP, while two famous Armenian American academicians are advisors to both organizations.
The problem is that FHAO is cosponsoring an Anti-Defamation League (ADL) panel on "The New Anti-Semitism: A Contemporary Discussion in Historic Faneuil Hall" in Boston on November 7, 2011.
Abraham Foxman, ADL National Director, will be a panelist.
Mr. Foxman and his ADL have denied the factuality of the Armenian genocide of 1915 – 1923 committed by Turkey and, to this day, have failed to unambiguously acknowledge that genocide. They have also immorally and actively assisted Turkey in defeating Armenian genocide resolutions in the U.S. Congress. A political agreement two decades ago among Turkey, a few top groups such as the ADL, and Israel formalized this arrangement (http://www.noplacefordenial.com//2007/08/press-kit-history-of-lobbying-against.html). This contrasts with the principled Jewish American groups and individuals who support recognition of the Armenian genocide.
It is clearly wrong for a genocide education organization such as FHAO to affiliate itself with Foxman as long as he and his organization remain foes of Armenian genocide acknowledgment.
Foxman continues to oppose passage of the Armenian genocide resolution, contemptuously terming it a "counterproductive diversion."
My October 24 "open letter" (http://www.keghart.com/D-Boyajian-History and elsewhere) to FHAO explained this and more. The letter respectfully asked FHAO to withdraw its partnership with Foxman for the November 7 event.
Since that letter, scores of Armenian Americans have emailed and called FHAO, and posted online, to express their dismay at the FHAO-Foxman pairing.
FHAO's response has been a disappointment. FHAO has said, against all evidence, that Foxman has acknowledged the Armenian genocide. In fact, he has done no such thing. Though Foxman's statement of August 21, 2007 used the "G" word, it also employed evasive language that implied, for example, that Armenian deaths may have been merely a "consequence" of Turkish "actions" rather than having been intentional. Article II of the U.N. Genocide Convention specifically requires "intent" for an act to be considered genocide. Foxman and the ADL know that.
A dozen Massachusetts cities and the Massachusetts Municipal Association, which represents every city and town in the state, did not buy Foxman's rhetorical gymnastics. They cut ties with the ADL's "No Place for Hate" program even after – after – Foxman's statement. This matter was national and international news (http://npfdnews.blogspot.com/).
Astonishingly, FHAO's response did not even attempt to address Foxman's and the ADL's past and present opposition – hand in hand with the Turkish government – to the Armenian genocide resolution. There is a failure to recognize that Foxman and his ADL have not even begun to undo the damage they have done to Armenians.
It is difficult to understand why or how the FHAO-Foxman partnership for this event came about. One hopes that ADL members among FHAO's donors and its treasurer, Elizabeth Jick, an ADL Executive Committee member, did not unduly influence its decision. The FHAO is unnecessarily and gratuitously lending its prestige to Foxman. This is offensive to Armenians.
Four years ago, Armenian grassroots activists, including those from the Armenian National Committee of America and the Armenian Assembly of America (AAA), and others, were the movers and shakers behind the campaign (www.NoPlaceforDenial.com) against the ADL's anti-Armenian actions. With very limited exceptions, however, Armenian American academicians – genocide specialists and historians – including those (see http://www.genocideeducation.org/boards/index.htm) affiliated with the GEP, remained uninvolved.
Even as the issue moved to New York, Los Angeles, Santa Barbara, and San Francisco in 2007 and 2008, these academicians largely remained silent.
Journalists and grassroots activists in Los Angeles and on the East Coast often take the lead on this and similar issues while academicians fail to add their own voices.
The GEP, its staff, board, and advisors are friends of FHAO, as they should be. And as friends, they are obligated to urge FHAO to withdraw from its partnership with Foxman for the November 7 event.
When credibility hangs in the balance, silence is not an option.
Sincerely,
David Boyajian
Belmont, MA
Note: The Genocide Education Project can be contacted at [email protected] (Raffi Momjian), [email protected] (Sara Cohan), [email protected] (Esther Kalajian), [email protected] (Pauline Getzoyan), and [email protected].
For a complete list of GEP officials and advisors:
http://www.genocideeducation.org/boards/index.htm.
Facing History and Ourselves can be contacted at www.facinghistory.org/contact?openform