World-renowned kickboxing prize-fighter, Melsik Baghadasaryan, had two things on his mind at the K-1 World Grand Prix…victory and dignity.  He achieved both. And he also had something truly special emblazoned on the front of his trunks…the Armenian Bar Association's iconic logo featuring paired cranes and twinned peaks of Ararat.  With every roundhouse kick and with each knee strike, the Armenian Bar's crest was caught in the glow of Melsik's athletic virtuosity.
The Armenian Bar Association made its way to Tokyo in September in a show of support for the young phenom, known as "The Gun," who has fast become a sentimental favorite of many Armenian Bar members.  Recognized and adored the world over, Melsik has lent his presence to the Armenian Bar's diverse initiatives, including traveling to Yerevan this past spring with the organization's Parliamentary Elections Monitoring team.
Leading up to the all-day competition on September 18, 2017, the 25-year-old super star was pegged as the front-runner to come out on top at one of the fighting world's biggest events – the K-1 World Grand Prix–which was staged at the Saitama Super Arena in front of thousands of roaring fans and followers.
The Armenian Bar delegation was headed and inspired by Mesrop Khoudagoulian and was rounded out by Lucy Varpetian, Karnig Kerkonian, Gayane Khechoomian, and Armen Hovannisian.
"In Melsik, we see and feel our people's heartbeat and its pulse, our heroic past and our promising future.  On a personal note, as a mother of a three-year old boy, I also see in Melsik the type of man that I hope my son, Vahan,  will grow up to be: humble and strong, knowing and learning, devoted and appreciative," said Lucy Varpetian.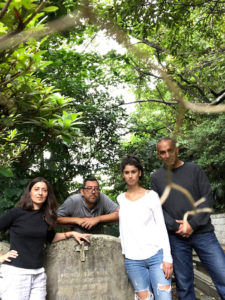 With this trip to the Orient, the Armenian Bar's Dignity Mission brand of devotion was launched, first with the delegation's incense and prayer-filled tribute at the gravesite of the late Honorable Diana Apcar who was the Republic of Armenia's Ambassador to Japan between 1918 and 1920.  The Dignity Mission then pivoted to shore up the courage, patriotism and daring of its representative in the ring.
"The juxtaposition of being in Japan to honor the late Diana Apcar – a pioneering foreign dignitary and humanitarian – and also to cheer our kickboxing champion, Melsik Baghdasaryan, is a testament to the Armenians' longevity and impression on the world stage. It was a very special mission and one that I hope we replicate in other parts of the world where Armenians have left a mark," remarked Gayane Khechoomian.
Baghdasaryan, the WLF World Champion, impressed Japanese fans by putting on an absolutely dominant display against his first-round opponent, Yamagiwa Kazuki – earning him a unanimous decision victory from the judges.
"It was an honor to come to Japan wearing the Armenian Bar Association's logo with its beautiful image of Mt. Ararat," said Baghdasaryan. "I spent most my life in Armenia, so seeing the Armenian Bar work to make the country a better place helps remind me why I fight too."
But Japanese fans were not the only ones impressed.  The entire Armenian Bar contingent could be seen springing from their ringside seats and cheering with words of encouragement to the daring young man at center stage.
"In our native Armenian tongue, like Julius Caesar long before him, 'Yegav, desav, direts.' Yes indeed, Melsik came, he saw, and he conquered," said Armen Hovannisian. "You just can't take your eyes off this kid!  He is mesmerizing with his every bob, his every weave, his every strike, and his every blow."
As the packed arena prepared to watch the Armenian in successive bouts, the crowd was stunned when announcers revealed that Baghdasaryan, after his initial victory, had not received medical clearance to continue due to injury. A nerve had been aggravated in his shoulder, rendering the south-paw incapable of raising his left arm.
"I will always hold my head high as well as the tri-color of our homeland. While it was disappointing for me because not only did my coaches and I know, but even the Japanese fans knew, that I would win the belt, I will heal and be back next year for what's mine, for what's ours," said Baghdasaryan.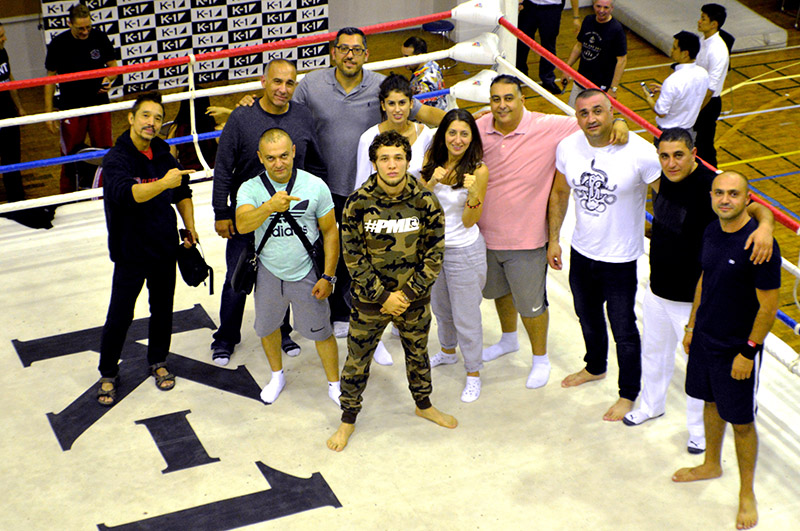 The rising star later came out to the stands, and after taking pictures and shaking hands with hundreds of fans, Melsik found the proud faces of friends and compatriots.
"It was a great honor and help to have my friends from the Armenian Bar there," said Baghdasaryan. "As long as I'm fighting, I will always keep that logo and our flag flying high."
"Melsik's climb to the top was paved with his God-given gifts, earned with unrelenting training, and yes, inspired by the blood and marrow of the Armenian Nation," exclaimed Mesrop Khoudagoulian.
Karnig Kerkonian crystallized the essence of the Tokyo leg of the Armenian Bar's first Dignity Mission, "The Armenian Bar is beholden to the great figures of our past and present, the combination of whom led to the launch of our Association's Dignity Mission initiative. This time, it was to Tokyo to kneel together at the grave of Ambassador Apcar and to stand as one in the long shadow of Melsik. Next, it will be a pilgrimage to Jerusalem where we will tend to our forlorn cemeteries and to our living communities."