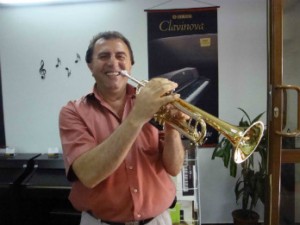 BOSTON – The YerazArt Foundation, a Boston-based non-profit organization dedicated to the support of young Armenian musicians, announced the establishment of two major educational programs in Armenia: a comprehensive instrument donation program and annual conservatory scholarships.
Taking a hiatus from its annual North American concert tour, the YerazArt Foundation focused this year on the planning and implementation of new initiatives aimed at strengthening Armenia's musical foundations.
The instrument donation program was designed in an effort to alleviate the financial burden of remote music schools and meet the needs of the student body. After an extensive research targeting the Shirak region, YerazArt decided to channel its assistance to Music School #4, named after composer Arshak Brutyan and located in earthquake-stricken Gyumri. YerazArt's Armenia Director Arman Padaryan coordinated with the school's director Mr. Khoren Vardanyan to assess the school's requirements and subsequently, YerazArt purchased and donated a comprehensive set of brand new instruments including ten violins, two trombones, one trumpet, one clarinet and two guitars to the school.
"We are extremely grateful to the YerazArt Foundation for its generous and timely gift to our school. We were in dire need of a replenishment of our inventory, and I'm confident that these new instruments will have a significant impact on the quality of our instruction as well as on the performance of our students," stated Vardanyan.
YerazArt is now in the process of helping another school, the reputable Kanakeravan Art School, with instrument donations as well. Located in a village neighboring Yerevan, the Kanakeravan School offers arts, music and dance classes and needs some additional instruments to complete its repertoire.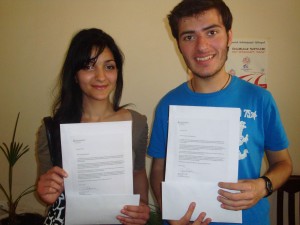 The talent/need based scholarship program was meant to assist promising students wishing to further their musical instruction in Armenia with the aim of pursuing a career in music. This year, YerazArt sponsored two YerazArt Young Armenian Musician Scholarships at the Yerevan Conservatory, covering the full tuition costs of two students for the 2011-2012 academic year.
"The challenges facing Armenian musicians are many, throughout the various stages of their musical education. We tried to address some of these hurdles, namely the poor quality and scarcity of instruments available at music schools, and the lack of funding for higher education. We are truly excited about these two initiatives, and look forward to developing them further in the coming years, "said YerazArt representative Nicole Babikian Hajjar.
On the local front, the Foundation will be holding its annual fundraiser on September 24 at the residence of Raffi and Nina Festekjian.
About the YerazArt Foundation: YerazArt is a Boston, USA-based 501 c(3) non-profit organization with a mission to nurture, support and promote young musical talents from Armenia through assistance with professional development, scholarships, instrument donations and the organization of concert tours. To learn more, visit www.yerazart.org.