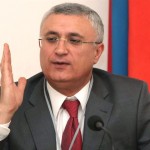 YEREVAN. Garegin Azarian, the chairman of the Central Election Commission (CEC) of Armenia died of heart attack on Friday night. He had been recently reelected as the CEC chairman.
Azarian was born in Yerevan in 1961. In 1986, graduated from the Yerevan Polytechnic Institute. From 2000-2003 he was the head of the department of Armenia's Ministry of Justice State Register of Legal Entities and from 2003 till present occupied the position of president of the Armenian Central Electoral Commission. Was married and had 2 children.
Garegin Azarian administered the disputed Presidential Elections of 2008. According to the CEC, Serzh Sarkisian swept to a landslide victory with almost 53 percent of the vote, while his main opposition challenger, former President Levon Ter-Petrosian, came in a distant second with only 21.5 percent.
Late last week, WikiLeaks disclosed diplomatic cables from U.S. Embassy in Yerevan, according to which Ter-Petrosian garnered far more votes than were shown by official results of the presidential election and should have qualified for a run-off against Sarkisian.