BEIRUT — Young professionals boarded flights from as far as Australia, Brazil, Thailand and beyond to participate in AGBU FOCUS 2017 in Beirut from August 2 to 6. Following the tradition established sixteen years ago, over 400 guests came together to expand their networks through meaningful exchange while discovering the cosmopolitan Lebanese capital and attending an unparalleled set of cultural and social events.
This year, in addition to the popular series of events expected at AGBU FOCUS, guests were invited to join a special excursion on Wednesday and tour in the unique sites of Beirut, the Jeitta Grottoes, Byblos city, the Jbeil souks and the Armenian Genocide Orphans' Aram Bezikian Museum at the Bird's Nest Orphanage. The visit to the museum proved particularly memorable as many attendees found themselves in the spot where their ancestors took refuge and learned skills to integrate into some of the communities represented by the FOCUS guests. "We were eager to welcome guests to our city, which carries a lot of emotion and history as well as a sense of belonging for Armenians. Lebanese traditions, culture and hospitality added a special touch to our weekend. From the very start, we presented a truly inclusive Lebanese-Armenian experience ranging from the local food to music and settings," said AGBU FOCUS 2017 chair Natacha Keuchguerian.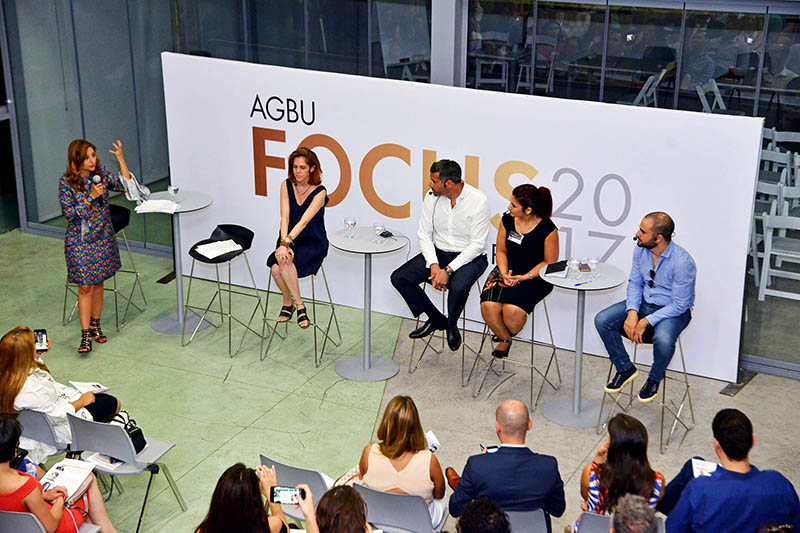 AGBU FOCUS officially kicked off with its signature event Perspectives, a panel discussion, held at Bachoura in the Beirut Digital District. The evening offered insights by fellow professionals who had broken the mold in their careers by taking risks in their fields and often stepping outside of their comfort zones. Sarine Karajerjian, the former chair of the AGBU Young Professionals (YPs) of Lebanon, moderated the discussion that included engineer Sevag Babikian, fashion designer Sarah Hermez, attorney-turned-entrepreneur Stephane Petrossian and tech researcher and startup founder Anna Vartapetiance. Although panelists' careers and paths varied, an underlying theme of social responsibility emerged in each person's journey. "Someone once told me that beauty and justice can be found in everyone and that statement resonated with me and pushed me to start Creative Space Beirut which aims at making design education accessible to all students with vision and an impulse to create, regardless of their socio-economic standing," said Sarah Hermez, co-founder of the design school.
The dialogue continued the following day at the inaugural FOCUS Conference where emerging leaders and engaged young professionals learned how grassroots ideas have launched evolving into signature programs within the AGBU's landscape of activities. Framed appropriately as a network of ideas, AGBU has served as an incubator for new initiatives for decades. The participants were also offered a look at two up-and-coming projects aimed at engaging communities on an international scale. Brainstorming sessions and workshops created a stimulating environment for attendees to provide feedback and hold collaborative discussions for new program concepts. "It was a distinct honor to host the first FOCUS Conference and collaborate with AGBU leadership. The drive of like-minded peers was evident throughout the day as participants shared their thoughts and encouraged each other to take action to ensure that their communities remain engaged in giving back," noted AGBU FOCUS 2017 co-chair Nathalie Piranian. The day concluded with an opportunity for industry-based networking before the ever-popular FOCUS Club Night at B018, a former bunker turned into an open-air nightclub designed by world-renowned architect Bernard Khoury.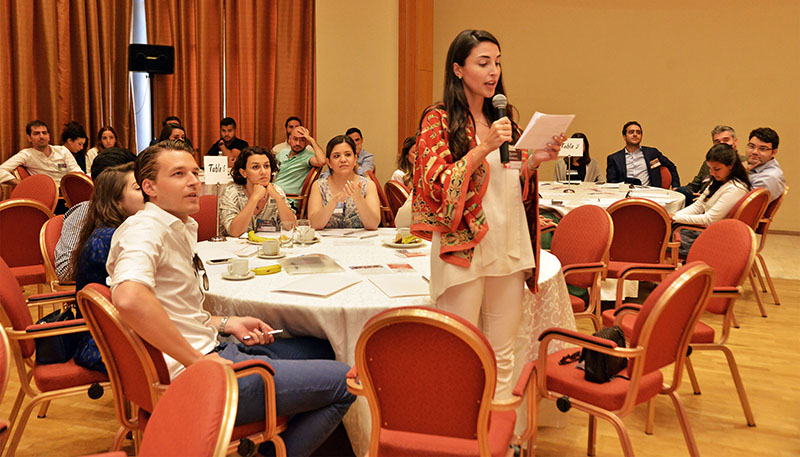 On Saturday, after the first-hand exposure to Khoury's architecture, guests at FOCUS on Art held at the impressive Sursock Museum were treated to his special presentation. Reflecting on the resilience of the city and his design process and ideology, Khoury noted that his mother's Armenian roots remain ever present in his mind. Khoury, who has left his indelible mark on the Beirut landscape and designed the Tumo Center for Creative Technologies in Yerevan, has a few ongoing projects in the homeland. "What a treat to discover the spirit of the structures and spaces of Beirut, their virtues and vices through the architectural storytelling of Bernard Khoury," noted Stepan Khzrtian who traveled from Arcadia, California, for the weekend.
The highlight of the weekend was the AGBU FOCUS Gala held at The Legend, nestled on the bank of the ancient Lycus River. The impressive entertainment ranged from a performance by the AGBU Arine Dance Ensemble and a fire drumming show to fireworks and endless dancing. The night began with a dedication to the AGBU Scholarship Program, the designated beneficiary of the FOCUS fundraising drive. Since 1923, the AGBU Scholarship Program has provided financial assistance to tens of thousands of students pursuing higher education at some of the world's top-ranked universities. AGBU FOCUS 2017 organizers Natacha Keuchguerian and Nathalie Piranian addressed guests drawing their attention to the lasting impact of the AGBU Scholarship Program. The fundraising campaign leading up to the FOCUS weekend raised nearly $100,000 attesting that the spirit of giving is alive and well in the current generation of YPs.
As a beneficiary of an AGBU scholarship, fashion designer Eddy Anemian of Saint Chamond, France, shared his experience and expressed his gratitude to AGBU and its donors. Anemian, who received the coveted H&M Design Award 2014 at age 24 and whose own collection for the company sold out within the first hours on the market, conveyed his incredible journey from his small-town upbringing to the storefronts of the Champs Elysées. "My AGBU scholarship was extremely helpful because it allowed me to fully engage in the creative process without facing the struggle of a financial burden. The creative process is often very tiring and overwhelming at times but AGBU's support provided me with the encouragement I needed to propel forward and pursue my dream," said Anemian.
Addressing the crowd in three languages, AGBU Lebanon District Committee member Gary Nazarian thanked AGBU Lebanon, the Central office in New York and the Organizing Committee for their tireless efforts behind the scenes. In a touching tribute, he announced the establishment of the AGBU Noubar Nazarian YP Innovators Fund, which will designate $10,000 per year to finance start-up projects initiated through the AGBU YP network. "Noubar Nazarian committed his time to ensure that AGBU youth activities thrived during his lifetime and this fund builds on the foundation he and his generation of leaders set decades ago," he noted.
The weekend ended with a farewell brunch at the Beirut Waterfront. In the weeks following FOCUS, professional and personal connections will continue to be made and new ideas will be explored, a testament to the impact that FOCUS has on connecting Armenians around the world.
Since premiering in New York City in 2001, AGBU FOCUS has distinguished itself as a unique networking experience for Armenian young professionals globally. What began as a signature anniversary celebration is now a sensational biennial tradition, offering young professionals an opportunity to connect with hundreds of international peers while highlighting the direct and positive impact of AGBU's programs on generations of Armenians. Over the past 14 years, AGBU FOCUS has united close to 3,000 young professionals in seven different cities: New York City (2001, 2007), Montreal (2003), Miami (2005), Chicago (2009), Paris (2011), San Francisco (2013), Toronto (2015) and now Beirut (2017).