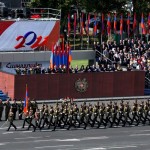 YEREVAN — Armenia put on the biggest display of its military might in five years by demonstrating tactical ballistic missiles, unmanned aircraft and other major weaponry on Wednesday in a military parade in Yerevan that marked the 20th anniversary of its declaration of independence from the Soviet Union.
Scores of troops as well as tanks, artillery systems, warplanes and other military hardware paraded through the city's main Republic Square. Meanwhile, warplanes and helicopter gunships roared overhead, with SU-25 jets spraying the colors of the Armenian tricolor (red, blue and orange) in the sky, to the delight of the parade attendees.
Also taking part in the parade were units from Nagorno-Karabakh's army, Armenia's border guard and interior troops as well as the Russian military base headquartered in the country's second city of Gyumri.
The main highlights of this demonstration were Russian-made 9K72 surface-to-surface ballistic missiles known in the West as Scud-B and S-300 air-defense systems of Russian make that Armenia only recently officially confirmed to be in possession of. The Armenian military was known to have possessed Scud missiles systems since the late 1990s. But it avoided putting them on display until now.
Designed for the Soviet army in the 1960s, Scud-Bs have a firing range of up to 300 kilometers, putting virtually all strategic facilities in Armenia's arch-foe Azerbaijan within their reach.
As heavy trucks carrying them rumbled into Republic Square a parade announcer said the missiles have been modernized by Armenian specialists. He said they are now fitted with electronic guidance systems and can destroy enemy targets located "even in densely populated areas."
The parade also confirmed Armenia's possession of more short-range but precise Tochka-U ballistic missiles.
The Armenian military also unveiled at the parade other, domestically manufactured weapons, including unmanned military aircraft, flamethrowers and multiple grenade launchers. Military officials say the drones were designed by Armenian engineers.