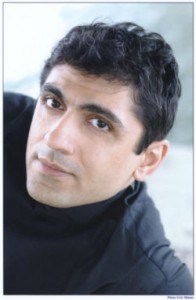 Award winning pianist Vardan Mamikonian will perform in the opening recital of the Philip Lorenz Memorial Keyboard Concert Series at Fresno State. The concert will be held at 3:00 PM on Sunday, September 18 in the Concert Hall on the Fresno State campus.
The concert is co-sponsored by the Armenian Studies Program of Fresno State. Babayan will be performing works by J.S.Bach/Busoni, Chopin, and Liszt.
Having performed to greatest acclaim in such prestigious venues as the Musikverein in Vienna, Carnegie Hall in New York, Wigmore Hall in London, and Théâtre des Champs-Élysées in Paris, prize-winning Armenian pianist Vardan Mamikonian returns to Fresno for another display of his "impeccable virtuosity, and, more so, a rare fullness to his touch, sensitivity and refinement of phrasing, and ceaseless attention to architectural balance" (Le Figaro, Paris).
Born into a musical family in Yerevan, Armenia, Mamikonian began studying the piano at the age of seven and quickly showed exceptional talent. After completing studies in Armenia, Mamikonian continued at the Moscow Conservatory for two years and then moved on to the prestigious Tchaikovsky Conservatory where he became a pupil of Valery Kastelsky, himself the last pupil of the legendary teacher Heinrich Neuhaus. Later he continued studies with Russian virtuoso Lazar Berman. In 1991 Mamikonian immigrated to France and took French nationality. He currently makes his home in Paris. A decisive moment in his career came in 1992 when he won the World Music Masters Competition in Monte Carlo that subsequently lead to numerous major engagements throughout the world.
Mamikonian has toured extensively throughout Europe, Asia, North and South America, as well as the Middle East and has performed in the world's great concert halls under conductors such as; Valery Gergiev, Vladimir Fedoseyev, Eliahu Inbal, Rudolf Barshai, Vladimir Spivakov, and Lothar Zagorsek.
Mamikonian has devoted much time to the study and performance of French repertoire and has been acclaimed as one of the great interpreters of the music of Debussy and Ravel. Mamikonian has also brought many works of the 20th Century to the public's attention, most notably the compositions of the Armenian composer Arno Babajanian, as well as the French composer Henri Duttileux, with whom he has worked closely. Vardan Mamikonian has recorded extensively for radio, television and has made numerous recordings for the German label Orfeo. Several of these recordings have received awards from the international press.
General tickets for the concert are available for $18 per person, for seniors tickets are $12, and tickets for students are $5.00 per person. Ticket reservations for the concert may be made by calling 278-2337. Relaxed parking will be available in Lots C and V after 7:00 PM the night of the lecture. For more information on the Concert please contact the Armenian Studies Program at 278-2669.