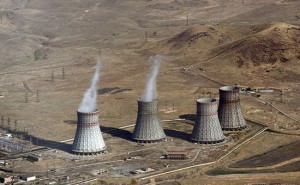 August 30 – Yerevan – Armenia is currently conducting the stress test in the Metsamor Nuclear Power Plant without support from the European partners.
According to Ashot Martirosyan, Chairman of Armenia's State Nuclear Safety Regulatory Committee, there is no progress in the negotiation process aimed at getting the EU's support in conducting the stress test yet. The Armenian side hopes that the issue of support on the part of Armenia's three main partners in the sphere, the EU, US and IAEA, will be resolved by the end of 2011.
Mr. Martirosyan indicated that the stress test being conducted will be completed in mid-2012.
Earlier, Ashot Martirosyan, in interviews to the media stated that "unlike the majority of European nuclear power plants, Metsamor has more problems to be solved as it is a first-generation plant".
"The EU decided to support Armenia, and leading European organizations and companies will be involved in the conduct of the stress test to ensure proper level," stated Mr. Martirosyan.
On 23rd of June, Armenia along with Croatia, Russia, Switzerland, Turkey, Ukraine and Belarus signed a declaration on conducting stress tests in Metsamor based on tests designed by the EU.