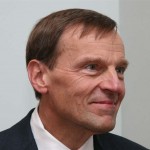 WASHINGTON, DC — Robert Bradtke, the chief U.S. negotiator in the Nagorno-Karabakh peace process, has reportedly cast doubt on Armenia's and Azerbaijan's stated commitment to hammering out a compromise peace deal.
"We [the United States, Russia and France] share the wish that there be no war. But do the parties have the political will?" Bradtke was on Thursday quoted by "The Washington Post" as saying.
Bradtke co-chairs the OSCE's Minsk Group on Karabakh together with fellow diplomats from France and Russia. The troika regularly visits Armenia, Azerbaijan and Karabakh to try to narrow the conflicting parties' differences on a framework peace accord drafted by them.
In a joint statement issued in late May, the U.S., French and Russian presidents urged their Armenian and Azerbaijani counterparts to finalize the basic principles of a peaceful settlement. "Further delay would only call into question the commitment of the sides to reach an agreement," they warned.
Despite this pressure, Presidents Serzh Sarkisian and Ilham Aliyev failed to iron out their differences at their June 24 trilateral meeting in Kazan with Russia's President Dmitry Medvedev.
Official Yerevan says Aliyev scuttled a breakthrough by demanding about a dozen last-minute changes in the latest version of the basic principles. Azerbaijani officials have not explicitly denied these claims.
Bradtke sounded cautious about prospects for Karabakh peace when he last visited the conflict zone with the Russian and French co-chairs late last month. "We'll see over the coming weeks the results of the efforts that have been made," he told journalists in Yerevan.
Later in July, Alexander Vershbow, the U.S. assistant secretary of defense for international security affairs, expressed concern about what he reportedly described as a "dangerous stalemate" in the international efforts to end the Karabakh dispute.