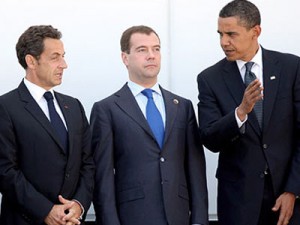 The United States, Russia and France have renewed their calls for the presidents of Armenia and Azerbaijan to cut a long-awaited peace deal on Nagorno-Karabakh at their meeting in the Russian city of Kazan on Friday.
U.S. President Barack Obama pressed his Armenian and Azerbaijan counterparts to agree on the basic principles of resolving the Nagorno-Karabakh conflict, in separate phone calls made ahead of their crucial meeting.
"President Obama strongly encouraged the two leaders to finalize and endorse the Basic Principles during their meeting with President [Dmitry] Medvedev in Kazan," the White House said in a statement issued late on Thursday. "Once the Basic Principles are agreed to, the parties can begin negotiating a final settlement based on the Helsinki principles of non-use of force or threat of force, territorial integrity, and the equal rights and self-determination of peoples."
"President Obama told both leaders that now is the time to resolve this conflict and to offer the people of Armenia, Azerbaijan, and Nagorno-Karabakh a better future for themselves and for their children," added the statement.
Also calling for a breakthrough at Kazan was French President Nicolas Sarkozy. In a written message to Sarkisian reported by the Armenian presidential press service on Friday, Sarkozy urged the Armenian and Azerbaijani presidents to show their peoples "the path of courage, wisdom and peace."
Earlier the Russian Foreign Ministry issued a separate statement on Thursday saying that the Kazan summit is "meant to serve as a milestone in the Nagorno-Karabakh settlement."
"We expect Baku and Yerevan to respond constructively to the joint communiqué issued on May 26 in Deauville by the presidents of the countries co-chairing the OSCE Minsk Group — the Russian Federation, the United States and France," it said.