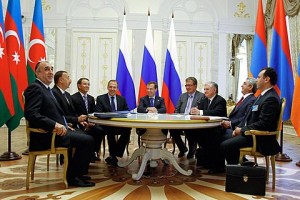 The presidents of Armenia and Azerbaijan have failed to finalize a framework agreement to settle the Nagorno-Karabakh conflict during fresh face-to-face negotiations hosted by Russia's President Dmitry Medvedev, according to RFE/RL's Armenian Service.
In a joint statement issued after the talks, held in the Russian city of Kazan, the three leaders reported further progress toward the conflict's resolution.
But contrary to international mediators' expectations, they clearly failed to bridge all the remaining differences on the basic principles of a compromise settlement proposed by the United States, Russia, and France.
The short statement cited by the ITAR-TASS news agency said Armenia's Serzh Sarkisian and Azerbaijan's Ilham Aliyev reached "mutual understanding on a number of issues whose resolution would contribute to the creation of conditions for the approval of the basic principles." It did not elaborate.
The June 24 talks lasted for more than three hours. The Russian, Armenian, and Azerbaijani foreign ministers were also in attendance.