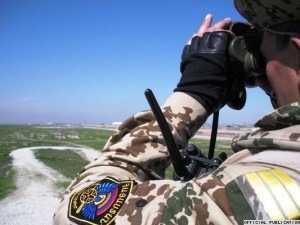 YEREVAN — The Armenian military announced on Tuesday the deployment of 81 additional troops in Afghanistan that almost tripled its presence in a NATO-led multinational force stationed there.
In an announcement on Tuesday, the Armenian Defense Ministry's press service said that the 81-member peacekeeping contingent had already taken its duties at the military base of Mazar-i-Sharif, a major city in the north of Afghanistan. It said they are tasked with protecting the local airport used by NATO's International Security Assistance Force (ISAF) for Afghanistan.
Forty other Armenian soldiers have performed a similar mission in another northern Afghan city, Kunduz, since the beginning of last year. Another five Armenian military personnel were sent to the area to train an Afghan army unit early this year.
The latest troop deployment stems from amendments to an agreement with NATO that was signed by the Armenian government in late 2009. They commit Yerevan to having up to 130 servicemen in Afghanistan at least until the end of 2012. That number could temporarily reach 260 during regular troop rotations.
Speaking at a tele-conference between the NATO Headquarters and the NATO Information Center in Yerevan later on Tuesday, Acting Assistant NATO Secretary General on Public Diplomacy Stephanie Babst emphasized that members of the Alliance "truly appreciated" Armenia's decision to increase the strength of its contingent in Afghanistan.
"One can even say that in this context Armenia acts against the trend," Babst said, as quoted by news agencies.