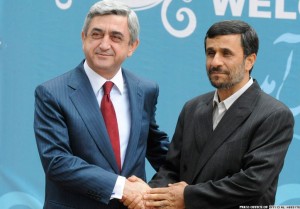 YEREVAN — Iranian President Mahmud Ahmadinejad cancelled a visit to Armenia just hours before his planned arrival in Yerevan on Monday for reasons that were not immediately clear.
The visit was announced by the Iranian government late last month and confirmed by President Serzh Sarkisian's office on Saturday. The latter gave no details of its agenda, though.
In a short statement issued on Monday, the Armenian presidential press service said the trip has been put off "by mutual consent." "It will be undertaken in due course," it said without elaboration.
The official Iranian IRNA news agency quoted a spokesman for Ahmadinejad, Mohammad-Hassan Salehi-Maram, as saying that the Armenian side "did not prepare documents" that were due to be signed in Yerevan. The official did not specify what those documents are.
According to another Tehran-based agency, ISNA, Iranian Foreign Ministry spokesman Ramin Mehmanparast gave a similar reason for the extraordinary delay. Mehmanparast expressed confidence that the unspecified documents will be finalized and the Iranian leader will visit Armenia "in the near future."
"The Islamic Republic of Iran and Armenia enjoy friendly relations and good neighborliness and authorities of the two countries are continuously in contact," he was reported to say.
Ahmadinejad was due to fly to Yerevan one week after a regular session of an Iranian-Armenian inter-governmental commission on economic cooperation that was held in Tehran. The meeting was co-chaired by Iranian Foreign Minister Ali-Akbar Salehi and Armenian Energy and Natural Resources Minister Armen Movsisian.
Salehi and Movsisian signed a memorandum of understanding to boost cooperation on oil, gas and electricity and expand overall economic ties between the two neighboring countries. A key element of that cooperation is joint Armenian-Iranian energy projects.
Those include the construction of two hydro-electric plants on the Arax river marking the Armenian-Iranian border and a pipeline that will ship Iranian fuel to Armenia. The two sides also plan to start building soon a third high-voltage transmission line connecting their power grids.
It is not clear whether these projects require the signing of additional Armenian-Iranian agreements.