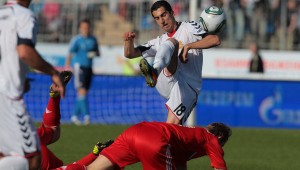 ST. PETERSBURG — Roman Pavlyuchenko scored a hat trick Saturday as Russia came from behind to beat Armenia 3-1 in their qualifier for the 2012 European Championship.
Markos Pizzelli opened the scoring for Armenia with a solo effort in the 25th minute, beating Igor Akinfeev with a low shot from 12 yards.
But Tottenham striker, Pavlyuchenko equalized a minute later by volleying in Aleksandr Anyukov's high cross from the right.
After the interval the hosts added power and precision to their attack and clinched the lead in the 59th minute, when Pavlyuchenko netted his second, firing in from the edge of the six-yard box.
Armenia had a clear chance to level again in the 65th minute but their forward Yura Movsisyan failed to redirect his teammate's cross into the net with a free header.
In the 73rd minute Pavlyuchenko completed his hat-trick, beating Armenia's veteran goalkeeper Roman Berezovsky with a precise spot-kick to secure Russia's win, after the guests' captain Sargis Hovsepyan fouled Chelsea winger Yury Zhirkov in the area.
In the 85th minute Armenia forward Henrik Mkhitaryan, who plays for Ukraine's newly-crowned champions Shakhtar Donetsk, sent the ball into the net but his goal was ruled offside by French referee Stephane Lannoy.
Russia has 13 points from six games in Group B, Armenia is five points behind.