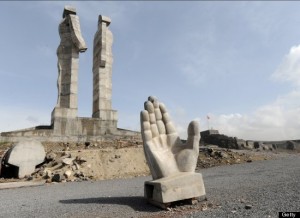 Work has begun to dismantle the 100-foot "Peace and Brotherhood" monument in the Turkish province of Kars, near the border with Armenia, which was initially erected to promote reconciliation over the loss of Armenian lives in the first world war; what scholars and the world consider a genocide, yet Turkish government vehemently deny.
The stone sculpture, featuring two figures symbolising a single divided human, has been criticized in Turkey for overshadowing an Islamic shrine. On a visit in January, Turkish Prime Minister, Recep Tayyip Erdogan, called it a as "a monstrosity" and "weird" while bemoaning its location near an 11th century Islamic shrine.
Recently artists and activists campaigned to save the monument, and last week a prominent painter was stabbed after a speech condemning the plan to tear it down.