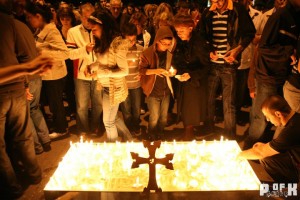 Glendale, CA – On April 23, 2011, numerous elected officials and dignitaries, as well as thousands of Southern California residents took part in the second annual Armenian Genocide commemoration candlelight vigil and rally in the City of Glendale, California. The event aimed at commemorating the over one and half million victims of the Armenian Genocide, as well as calling the world's attention to this most heinous crime against humanity. This event, which was for the first time organized on the 95th Anniversary of the Armenian Genocide in 2010, has quickly become one of the largest events of its kind.
This year's dignitaries of the event included the Honorable Council General of Republic of Armenia to Los Angeles Mr. Grigor Hovannissyan, California Assemblyman Mike Gatto, Glendale Mayor Laura Friedman, Glendale Councilmembers Ara Najarian and Raffi Manoukian, and influential columnist Mr. Harut Sassounian. Representative of His Eminence Archbishop Hovnan Derderian delivered the message and the blessing of the Primate on the occasion. California Assemblyman Mike Gatto (D-Los Angeles) and Maria Mehranian, the former Armenia Fund Chairperson, were sworn-in by Superior Court Judge Honorable Zaven Sinanian, to California's "International Genocide Memorial Commission" during the event.
During the event, the organizers debuted the newly created Armenian Genocide iPhone app. The app titled "Genocide Monument" is a work product of Alex Nisanian, a true visionary and a member of Unified Young Armenians. "The reason I made the app is because there wasn't something that could commemorate the unrecognized genocide of our past and at the same time encourage activism towards current ones around the world. The thinking set in, if not me then who, if not now then when?" said Nisanian. "The unrecognized Armenian genocide of 1915 remains as a background reminder of why we're doing this." continued Nisanian.
On behalf of the new generation of Armenians, the Organizers of the event pledged their readiness to continue their fight for justice. "While the last survivors of the Armenian Genocide are leaving us, they have left us thousands and thousands of hours of eye witness accounts, millions of pages of official documents, and lastly and most importantly' a national and collective memory with a solid foundation. It is this collective national memory which gives us the willpower to continue this fight for historical justice," said Aroutin Hartounian, the President of Unified Young Armenians.