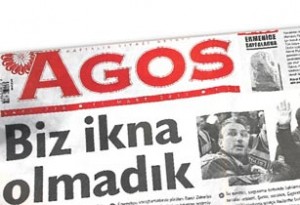 ISTANBUL, HURRIET Daily — Inmates in Turkey's prisons, including recently arrested journalists Ahmet Sik and Nedim Sener, have been unable to receive copies of the Armenian weekly Agos because officials say it is published in a "foreign language."
The two reporters filed a compliant about not receiving copies of the paper, which is published partly in Turkish and partly in Armenian, that had been sent to them at Silivri prison.
Administrators of the high-security facility responded to the complaint, explaining that, "The Agos newspaper is listed among the publications banned by the Justice Ministry, thus it cannot be brought into prisons."
The Justice Ministry said Wednesday, however, that the paper is allowed in prison. The newspaper, which has been publishing for 15 years, was accepted into the Parliament Library last week.
"We have received complaints since 2008 that Agos was not being received by prisoners in Tekirdag's F-type prison. We even made news about this," said the paper's editor-in-chief, Roper Koptas. "Then we thought the ban had been lifted, as we were not receiving complaints anymore."
This assumption was proven wrong when Sik and Sener did not receive the paper, Koptas said, adding that whether or not it is banned is prisons is still not clear. "We believe this is a big mistake," he said.
After learning about the journalists' failure to receive the newspaper, Agos contacted both the prison director and the chair of Parliament's Human Rights Monitoring Committee, Zafer Üskül, but failed to get a clear answer from either.
"As if the murder of [Agos' former chief editor] Hrant Dink was not enough, they are now even banning Agos from entering prisons," Sik and Sener, who met with their relatives Wednesday, said in a statement. "This is a hard-to-believe act; the ban reflects one of the many injustices done in this country each day."
The two journalists were arrested in early March as part of the ongoing Ergenekon case, an investigation into an alleged gang accused of plotting a coup. The move has drawn strong domestic and international criticism.
Justice Ministry officials said Turkish law requires publications in foreign languages to be checked before entering the country's prison and that the Agos copies had been delivered to Sik and Sener on Wednesday after being inspected.