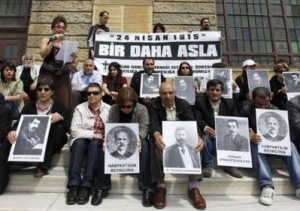 YEREVAN.- – A number of events will be held in five cities of Turkey on Armenian Genocide Remembrance Day.
Several organizations will hold events in Istanbul, Diyarbekir, Izmit, and Bodrum, Anush Hovhannisyan, expert on Turkish studies, told the journalists on Thursday.
Last April 24 a group of Turkish intellectuals, lawyers and human right activists gathered at Taksim Square of Istanbul to pay tribute to the Genocide victims.
The expert stressed that Turkey has not changed its strategy, but tactics towards Armenians. Nowadays they do not deny Genocide but say it happened between the two nations.
The fact of the Armenian Genocide is recognized by many states. It was first recognized in 1965 by Uruguay. The Armenian Genocide in Ottoman Turkey has already been recognized by 21 countries and 43 out of 50 states in USA.
Turkey denies accusations of Genocide of Armenians during the World War I and is extremely sensitive to criticism voiced by the western states.