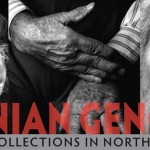 UCLA — A unique conference on the Armenian Oral History Collections in North America, their uses for research and evidence, the media, the visual arts, and the performing arts, will take place on the UCLA campus, Humanities Building 51A, on Saturday, April 2, from 9:30AM to 5:30PM. The conference, titled "Armenian Oral History Collections: Development, Uses, Potential," has been organized by the UCLA AEF Chair in Modern Armenian History and the Oral History Research Center (John B. Jackson Faculty Curator Grant), with support from the Near Eastern Center, Bob and Nora Movel Fund, and the Souren and Verkin Papazian Fund.
Holders of Armenian Oral History Collections in Canada, Mexico, and the USA will gather to consider the potentials of the collections, their preservation and means of access. The public conference on April 2 will be preceded a day earlier with the participants being given a private tour of the extensive Holocaust oral history archive maintained by the Shoah Institute Foundation at the University of Southern California. Deliberations will then continue in the UCLA Oral History Research Center to consider critical issues relating to the maintenance, archiving, and possible sharing of the Armenian Genocide Oral History collections around the world.
The Public Conference
For the public conference, on Saturday, April 2, on the UCLA campus, four thematic panels have been organized. The first morning panel is titled "The Collections: Their Origins, Scope, and Evidence." Participants include Marc Mamigonian (NAASR); Varoujan Froundjian (Parsegian Collection, Columbia University); Bethel Bilezikian Charkoudian and Haig Der Manuelian (ALMA Collection, Massachusetts); Greg Sarkissian and George Shirinian (Zoryan Institute Collection, Toronto); Richard Hovannisian (UCLA Collection); Taner Akcam (Kaloosdian-Mugar Chair, Clark University—Dersim Project).
The second morning panel, "Publications, Performance, and the Visual Arts," includes demonstrations and visual presentations by Carla Garapedian and Jerry Papazian (Armenian Film Foundation); Donald and Lorna Touryan Miller (USC); Ara Oshagan (Photography, Los Angeles); and Bianca Bagatourian (Armenian Dramatic Arts Alliance).
The afternoon sessions begin with a panel on "Preserving, Indexing, Archiving, and Accessing." Participants include Steven Smith (Director, Shoah Foundation); Teresa Barnett (Head, UCLA Oral History Research Center); Hayk Demoyan (Director, Armenian Genocide Museum-Institute, Yerevan); and Mark Greenberg (Director, Oral History, University of South Florida, Tampa). The final session considers "Potentials for Upcoming Scholars, Writers, and Creative Artists" and includes Armen Marsoobian (South Connecticut State); Ara Sanjian (Armenian Research Center, University of Michigan-Dearborn); Carlos Antaramian (Mexican-Armenian Oral History Project); Arda and Doris Melkonian (UCLA); and Reuben Zaramian (University of Toronto).
Professor Richard Hovannisian said: "After organizing seventeen conferences in the series 'Historic Armenian Cities and Provinces,' as well as four conferences on the Armenian Genocide just in the past fifteen years at UCLA, I am gratified that this gathering will highlight the importance of Armenian oral history for the fields of anthropology, sociology, history, political science, economics, linguistics, music and arts, humanities, immigration and Diaspora studies, women's studies, and comparative genocide studies. It is critical that we consider how best to preserve and utilize these precious first-person audio, video, and film testimonies of the last generation of Armenians to have been born in their native lands of Western Armenia, Cilicia, and Asia Minor and even in the European areas of the former Ottoman Empire."
The April 2 public conference is open to the public and free of charge. Registration is required. Parking is available in Structure No. 2, Westholme and Hilgard entrance to UCLA. The full program, map and parking information, and registration form may be accessed on the web at: oralhistory.library.ucla.edu/conference.html.
Conference contact: Professor Richard Hovannisian, [email protected].