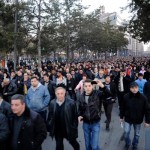 The participants of the Armenian National Congress launched oppositional rally entered Liberty Square. Earlier, the demonstrators had surrounded the area. The Coordinator of the Armenian National Congress Levon Zurabian held talks with police officers, particularly the Deputy Chief of Armenian Police Alexander Afyan for law enforcement agents to allow protestors to enter Liberty Square peacefully.
The. police, who had formed a barricade. around the one-block-square perimeter of the Opera House (Liberty Square) boarded buses and were leaving the grounds to the jubilant crowd – the biggest gathering the opposition has amassed since 2008.
The protestors entered the square from Tumanyan Street, Armenian News-NEWS.am correspondent reports from the site. The participants of the protest action are chanting "Now, Now!" enthusiastically.
The protest rally had gathered at Matenaderan Institute of Ancient Manuscripts which begin at 5 p.m., and after an hour Ter-Petrosian deputy Levon Zurabian called on the crowd to move down Mashtots Boulevard "and continue our meeting there".
At present, the rally is continuing at Liberty Square, as speculation centers on whether Raffi Hovanissian will address the crowd.
Hovanissian has spent the past two days and nights on a public bench in the square, after announcing a hunger strike.
Today's symbolic victory by the opposition comes as the capital is visited by Parliamentary Assembly of the Council of Europe co-rapporteurs, a coincidence that may have had bearing on whatever decision was taken by authorities that resulted in police stepping aside.