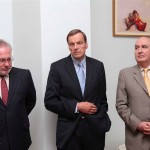 International mediators on Wednesday expressed "deep concern" at continuing ceasefire violation reported from the Nagorno-Karabakh conflict zone and urged the Organization for Security and Cooperation in Europe to investigate their circumstances.
"Such senseless acts, if confirmed, would contravene the commitment of the parties to refrain from the use of force and to seek a peaceful settlement of the Nagorno-Karabakh conflict," the U.S., Russian and French diplomats co-chairing the OSCE Minsk Group said in a statement.
"The Co-Chairs have asked Ambassador Andrzej Kasprzyk, the Personal Representative of the OSCE Chairperson in Office, to carry out an immediate investigation with the participation of all sides, as agreed in the March 5 joint statement issued in Sochi by Presidents Dmitry Medvedev, Ilham Aliyev, and Serzh Sarkisian," said the statement.
The Co-Chairs will travel next week to the region, where they will call upon the parties to cooperate fully with the investigation," it added.
The strongly-worded statement followed Azerbaijani reports that Armenian forces shot and killed an Azerbaijani boy east of Karabakh on Tuesday. Azerbaijan's' Defense Ministry said Fariz Badalov, a 9-year-old resident of a village close to the Armenian-Azerbaijani "line of contact," was fatally wounded in the head by an Armenian sniper.
"The role of the authorities and military leadership of Armenia in that [shooting] is irrefutable," ministry spokesman Eldar Sabiroglu told the Trend news agency. "Everything happens on their direct orders."
Karabakh's Defense Army insisted, however, that its forces did not kill the boy and accused Baku of spreading "immoral" propaganda. An army statement said Karabakh Armenian troops repeatedly came under fire at various frontline sections in recent days but "did not unduly respond to provocative actions taken by the enemy."
Armenia's Defense Ministry similarly dismissed the Azerbaijani claims as "cheap" and "shameful." Ministry spokesman Davit Karapetian claimed that Baku is trying to offset the fallout from the fatal shooting of a Karabakh Armenian soldier that occurred the day before the Sochi talks.
In their statement, the mediators stressed that they are "deeply concerned" about truce violations that were reported both before and after the latest Armenian-Azerbaijani summit hosted by Medvedev.
"The Co-Chairs strongly condemn any loss of life, and urge all sides to exercise restraint, respect the 1994 ceasefire, and fulfill their obligations undertaken in Astrakhan in October 2010 and Sochi earlier this month," they said.