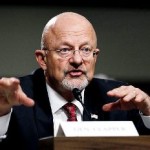 WASHINGTON, DC — The unresolved conflicts of the Caucasus and the fragility of some of the Central Asian states provide the most likely flashpoints in the Eurasia region, said James Clapper, Director of National Intelligence.
Speaking at last week's Senate Select Committee on Intelligence, Clapper noted the frozen Nagorno-Karabakh conflict is also a potential flashpoint. "The Azerbaijan government seems satisfied with the stalled Turkey-Armenia rapprochement, but President Aliyev is seeking to focus Western attention on Azerbaijani interests at the expense of Armenia. Heightened rhetoric and distrust on both sides and violent incidents along the Line of Contact throughout last summer increase the risk that minor military exchanges could lead to miscalculations that could escalate the situation with little warning," he said.
In a record on worldwide threat assessment he also touched upon Moscow's military presence in South Ossetia and Abkhazia. According to him, Moscow' presence in the territories combined with Georgia's dissatisfaction with the status quo, account for some of the tensions.
"Georgia's public efforts to engage with various ethnic groups in the Russian North Caucasus have also contributed to these tensions," he added.