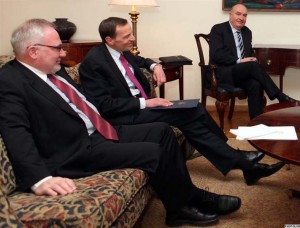 International mediators met with Azerbaijan's leaders in Baku and proceeded to Nagorno-Karabakh on Tuesday during their latest round of shuttle diplomacy coming amid fresh hopes for a breakthrough in the Armenian-Azerbaijani negotiating process.
The U.S., Russian and French diplomats co-chairing the OSCE Minsk Group made no public statements after holding talks with Azerbaijani President Ilham Aliyev and Foreign Minister Elmar Mammadyarov.
They entered Karabakh through the volatile and heavily militarized "line of contact" later in the day. Military officials in Stepanakert said they used the occasion to monitor the ceasefire regime at a section of the Armenian-Azerbaijani frontline northeast of the disputed territory.
The mediating troika is scheduled meet with the leadership of Nagorno-Karabakh Republic (NKR) on Wednesday. It will end the regional visit in Yerevan on Thursday with talks with President Serzh Sarkisian and Foreign Minister Edward Nalbandian.
The co-chairs' latest tour of the conflict zone comes less than two weeks after the presidents of the United States, Russia and France urged Sarkisian and Aliyev to finalize a framework peace accord on Karabakh at their upcoming meeting. "Further delay would only call into question the commitment of the sides to reach an agreement," they warned.
Aliyev and Sarkisian are expected to meet in Kazan, Russia at the end of this month. The summit will be hosted and mediated by Russian President Dmitry Medvedev.
Azerbaijani Foreign Minister Elmar Mammadyarov said on Monday that he and Nalbandian will hold a trilateral meeting with their Russian counterpart, Sergei Lavrov, in Moscow on June 11. He said they will prepare for the next Armenian-Azerbaijani summit.
Speaking to journalists in Baku the next day, Mammadyarov reportedly said that the conflicting parties still disagree on some of the "basic principles" of a Karabakh settlement put forward by the three mediating powers. In particular, he said, the Armenian side insists on a concrete date for a future referendum in Karabakh that would determine the territory's status.
The holding of such plebiscite is a key element of the basic principles. The proposed peace deal also calls for Armenian withdrawal from districts in Azerbaijan proper that surround Karabakh.
According to the Azerbaijani Trend news agency, Mammadyarov also said that the mediators did not bring new peace proposals this time around.