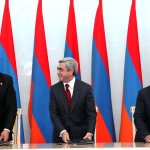 YEREVAN (RFE/RL) — The three political parties making up President Serzh Sarkisian's governing coalition said on Monday that they could jointly contest Armenia's next parliamentary elections due in May 2012.
The announcement came just four days after the Republican (HHK), Prosperous Armenia (BHK) and Orinats Yerkir parties pledged to avoid challenging each other in the legislative polls and to campaign for Sarkisian's reelection in 2013.
"The authorities are heading for both the parliamentary and presidential elections in a united front," said Khachik Galtsian, the spokesman for BHK leader Gagik Tsarukian.
"A united front could mean a single list [of candidates,]" Galstian told a news conference. "It could also mean that each party will fight on its own, after which their votes will be added up, and as a result of that, the coalition will have a greater representation in the National Assembly."
Razmik Zohrabian, an HHK deputy chairman, also did not rule out the possibility of the three coalition forces forming an electoral alliance ahead of the 2012 vote. Zohrabian told RFE/RL's Armenian service that they will make a final decision on the matter "based on the situation."
In a joint declaration signed last Thursday, the three governing parties made clear that they "will not strive to increase their political weight through contesting against each other or changing correlation of forces within the Coalition" during the parliamentary race. It was a clear indication that the BHK has given up its stated ambition to win a majority of seats in the next Armenian parliament.
Galtsian said in this regard that the BHK, which boasts the second largest faction in the current National Assembly, will aim to hold more parliament seats. "Naturally, all three coalition forces will be seeking to garner more votes in the elections," he said.
The declaration also says that the coalition parties will further expand their presence in the parliament as a result of the 2012 elections. Sarkisian and his allies already control at least 100 of the 131 parliament seats.
This declaration provision has been strongly condemned by Armenia's leading opposition forces. They say the authorities are thereby predetermining the election outcome and planning to curtail the already modest opposition presence in the parliament.
Galstian dismissed the opposition claims as "inappropriate." He insisted that the parliamentary elections will be more competitive than the last ones held in 2007.