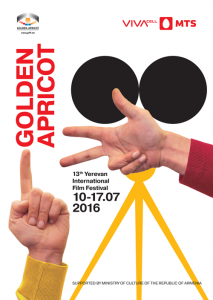 YEREVAN (Armradio) — The Golden Apricot 13th International Film Festival will be held in Yerevan July 10-17. This year's event will be dedicated to the 25th anniversary of Armenia's independence.
More than 900 applications for participation have been received from 91 countries, 135 films have been included in the competition and non-competition programs. The festival will start with the screening of Hamo Beknazaryan's Zareh, Director of Golden Apricot IFF Harutyun Khachatryan told reporters today at a press conference hosted by the Ministry of Culture.
The best feature and documentary films, produced during the 25 years of independence will be presented to spectators in a special program titled "Armenian Cinema: Our Days."
To coordinate the program film critics have been invited, who not only will introduce the story behind every film, but will also hold a round table to rebound the history of the independent cinema, the issues and the ways of its development. The film A Story of People in War and Peace (2007) by Vardan Hovhannisyan will open the program.
How has the Golden Apricot Film Festival contributed to the development of Armenian cinematography over the 13 years of its existence? "We stepped on the path of independence without studios, programs and new films, while today we are welcoming the 25th anniversary of statehood with new names and films in Armenian cinematography," Harutyun Khachatryan said.
Second, he said, "we showed the high level of Armenian cinematography," and finally "Armenian filmmakers worldwide were given the chance to establish ties with the Motherland."
Golden Apricot Film Festival in cooperation with British Council in Armenia will present a special film program, dedicated to the 400th anniversary of renowned British writer William Shakespeare's death. The best films, based on Shakespeare's works, will be screened in the frames of the program.
The "French New Cinema" program will be realized in cooperation with the Embassy of Francein Armenia. It includes the best three films of French production. The program will open with Two Remis, Two, (2015) by Pierre Léon.
The "Danish New Cinema" program will be implemented in cooperation with the Danish Film Institute. The program will present the best Danish films of the last five years. The Commune (2015) by Thomas Winterberg will open the program.
The four best films by Basque directors will be presented in a separate film program titled "Basque New Cinema." The film Autumn without Berlin (2015)by Lara Izagirre is to open the film program.
The General Partner of the festival is Armenia's Leading Telecommunications Operator VivaCell-MTS. The 10-year anniversary of cooperation between Golden Apricot Yerevan IFF and VivaCell-MTS will be celebrated this year.