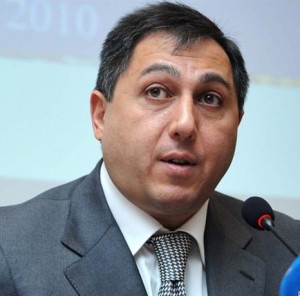 YEREVAN — Armen Harutiunian, Armenia's state human rights defender, has officially resigned to take up a high-level United Nations post in Central Asia.
Harutiunian will serve as the regional representative of the UN's Office of the High Commissioner for Human Rights. He will be based in Kyrgyzstan's capital Bishkek.
Harutiunian announced on Wednesday that he formally tendered Tuesday his resignation to Armenia's parliament, which has the constitutional authority to appoint ombudsmen nominated by the president of the republic.
Under Armenia's constitution, speaker Hovik Abrahamian has to formally notify parliament deputies of Harutiunian's decision to step down at the earliest parliament session. The resignation will be deemed accepted if the ombudsman does not withdraw it within the next three days.
"That means I will serve as ombudsman until February 11," Harutiunian told a farewell news conference. He said he has not discussed the matter with President Serzh Sarkisian and refused to speculate on his potential successors.
The 46-year-old lawyer served as former President Robert Kocharian's legal adviser before being elected ombudsman five years ago. Harutiunian incurred Kocharian's ire in March 2008 when he criticized the Armenian authorities' harsh response to opposition demonstrations staged after a hotly disputed presidential election.
But he subsequently endorsed the findings of an Armenian parliamentary inquiry into the crackdown. The inquiry conducted by pro-government lawmakers concluded that the use of lethal force against opposition protesters was largely justified.
Opposition leader Levon Ter-Petrosian branded the ombudsman as "one of the most ardent advocates" of the current President Serzh Sarkisian at a rally held in Yerevan last November.
Harutiunian remained on Wednesday cautious in commenting on the fate of about a dozen Ter-Petrosian loyalists remaining in prison. "Of course, as a human rights defender, I would be happy if those people were free today," he said. "But as a lawyer, I understand that there are problems there and they need to be solved in a legally accurate manner."
"It's not that all those individuals can be set free in one order," he added. "Each case requires a particular approach."
The outgoing ombudsman did not discuss these politically charged cases and the broader fallout from the 2008 unrest in his last human rights report submitted to Sarkisian and the parliament leadership on Tuesday.