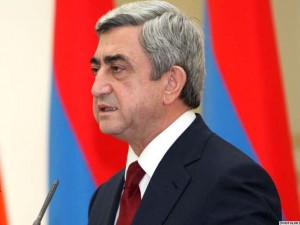 YEREVAN — Serzh Sarkisian has threatened to formally annul Armenia's normalization agreements with Turkey if Ankara continues to link their parliamentary ratification with the Nagorno-Karabakh conflict.
In an interview with the Ekho Moskvy radio station aired late on Wednesday, he also said that Armenia is prepared for another war with Azerbaijan and insisted that Karabakh's final status be determined by the disputed territory's predominantly Armenian population.
Sarkisian made clear that the stalled process of Turkish-Armenian normalization could resume only if Turkey's parliament ratifies "without preconditions" the protocols signed by the two governments in October 2009. "I therefore see no point in starting new negotiations," he said. "The only continuation can be the ratification of those protocols by Turkey's parliament."
"If all continues like this, it is possible that the only way out for us will be the withdrawal of our signature from those protocols, and in that case, those protocols will have no legal force anymore, even after being ratified by Turkey," he warned.
Sarkisian blasted Turkish foreign policy in the Ekho Moskvy interview. "The policy of 'zero problems' [with neighbors] declared by the Turks amounts to looking for solutions only beneficial for Turkey," he said.
"We do realize that Turkey is a big state, that the Turkish economy has grown strongly in recent years, that Turkey is a member of the G20 [group of nations.] But that doesn't mean they can act like our mentors. They are not our instructors," he added.
Turning to the Karabakh dispute, Sarkisian said that the only way to resolve it is to eventually hold a referendum on self-determination in Karabakh and again denounced Azerbaijani threats of military action. "We are prepared for any development of events," he said when asked about the possibility of renewed large-scale fighting.
Sarkisian further noted that he thinks Russia is capable of preventing another Armenian-Azerbaijani war. "Given Russia's big weight and possibilities in our region, our expectations from it are very high," he said.