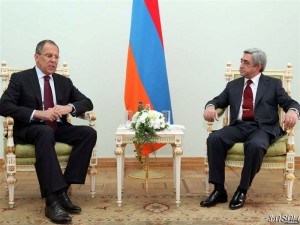 YEREVAN — Russian Foreign Minister Sergei Lavrov has paid a brief visit to Armenia as part of his shuttle diplomacy mission to present the Kremlin's vision of a Karabakh settlement to the conflicting sides, including Azerbaijan.
On Friday morning, in Yerevan, Lavrov met with Armenian President Serzh Sarkisian to convey Russian President Dmitry Medvedev's message on the Armenian-Azerbaijani dispute.
During the meeting Lavrov reiterated President Medvedev's 'sincere interest' in the successful outcome of the process, stressing his opinion that "all conditions exist for the parties to reach agreement."
"Now we are waiting for the answer," Lavrov said at a news briefing following his meeting with the Armenian president.
He said he was going to convey a similar message to the leadership of Azerbaijan.
According to Russian news agency Itar-Tass, later on Friday Russia's top diplomat also visited Azerbaijan's capital Baku where he conveyed the same message to President Ilham Aliyev. He is reported to have said in Baku he hoped the Azerbaijani leader would respond to the proposals after examining them.